I've been giggling for the last 24 hours.
It's a manly giggle but it is starting to draw unwanted attention.
Ever since I first saw the above Bloomberg headline, I remember it, I say to myself "Ya think?" and the giggles start.
Here's the article if you're interested but the story isn't really the point: "
Wirecard Scandal Could Give Fintech a Bad Name
"
The point is, I may be losing it.
Because when I'm not thinking of strange Bloomberg headlines* I'm thinking of this: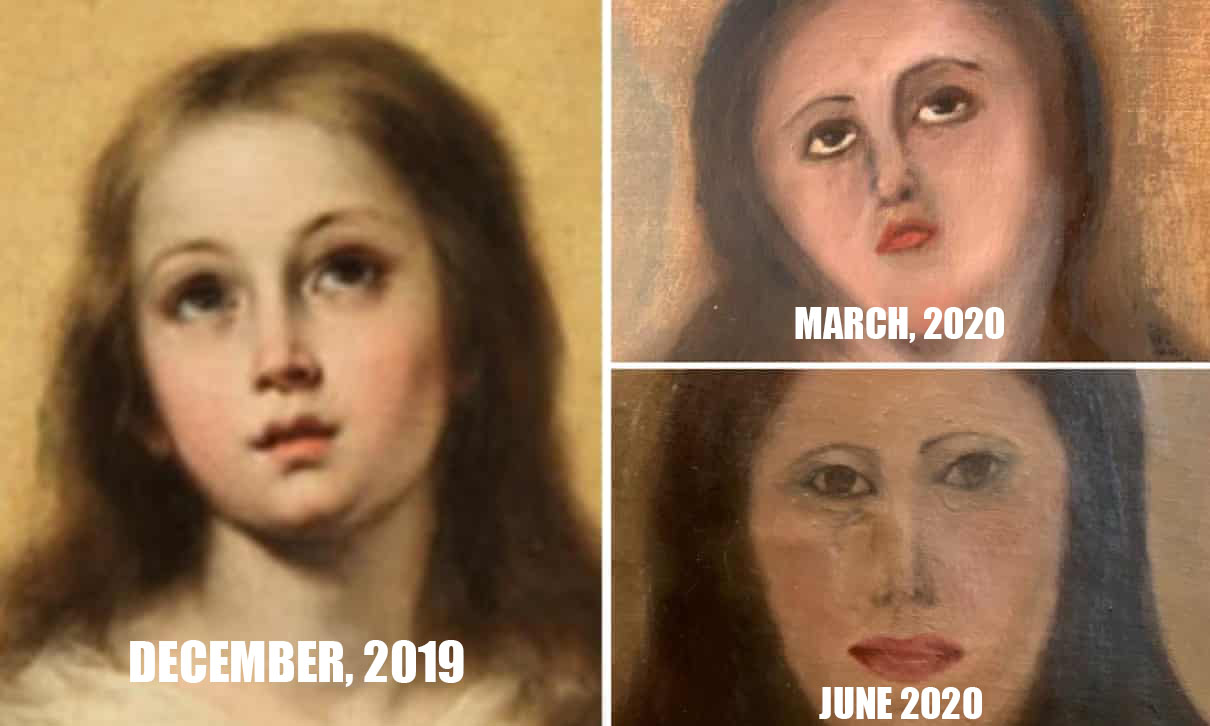 The latest "botched" art restoration out of Spain that
we looked at
on Tuesday..
How, if the story were true, how the owner would have felt upon presentation of the "restoration" in March.
And the pride the restorer must have felt with the June unveiling.
But then reality intrudes and I think this is a scam, they create a spurious backstory, get worldwide attention, and start selling the images on T-shirts or whatever:
— kaye (@kayeisme) June 23, 2020
Initial investment for the print (for that is what it is) €1,200.
And why think this?
Because of the link we placed under the "Monkey Christ" restoration:
Spanish art restorer, 82, who turned Jesus into a 'hairy monkey' in clumsy restoration of famous work signs merchandising deal as image gets imprinted on T-shirts
That's the Daily Mail if you can't tell from their headline style.
So though the story of the botched Madonna with the... ahem, is still funny it's not the same any more.
On the other hand:
November 2013
Strange Bloomberg Headlines Are Still With Us
After last August's Hoyt Review (
Recommendations Following a Review of the Relationship Between the News and Commercial Operations of Bloomberg LP
) there was fear among the cognoscenti* that the era of Search Engine Optimized Bloomberg headlines had come to an end.
It appears those fears were misplaced at least as far as the
SBH Tumblr
was concerned:
UBS Sees Banker Grounds Riff Like Keith Richards Winning Asia Equity Deals

Sex With Dementia Facing Boomers Spurs Elderly Care Group to Seek Policies


Crop Insurance Hazards Shown in Lost Pheasants in Grasslands

Fed Bubble Agonistes Persists as Zero Rates Prompt Great Debate

France Ranks Companies in Carrot-Baguette Gender-Equality Push

Public Vasectomy With Band-Aid Promotes Family Planning
*See:
Quartz:
Bloomberg's very strange headlines are in danger of making sense
FT Alphaville:
Goldman Gratuity Rankles Hoyt Scolding Newspersons: Compliance
Alphaville Looks at Strange Bloomberg Headlines
And our own posts:
Bloomberg Goes SEO Crazy in the Headline: "Obama $8 Billion Solar Betamax Unwinds as China Backs Rival" (FSLR; GE; SI)
On Bloomberg Headline Writing
From the Strange Bloomberg Headlines blog
Really Bad Business Writing (plus Orwell's rules of writing)