From Agrimoney:
Corn futures tumbled to fresh contract lows, and soybean prices extended nearly to 10% their losses this week already, as improved US weather prospects eased La Nina fears and prompted a further scramble to sell.

Corn futures for December, the best-traded lot, touched $3.46 a bushel at one point – taking to 23% their plunge from a June 17 high.

"As the old saying goes, prices take the staircase up, but the elevator down," said Don Roose, president at Iowa-based broker US Commodities.

Benchmark soybean futures for November dropped more than 3% to $10.42 a bushel, putting them on course for their first close beneath their 50-day moving average in three months.

'Overestimated the heat'Indeed, technical factors were seen as fuelling the rally, encouraging liquidation among speculators who hold large net long positions in both Chicago corn and soybean futures and options, regulatory data late on Friday showed.

However, the primary cause of the selldown was the continued improvement in US Corn Belt weather, boding well for the key corn pollination process this month, and soybeans' pod-setting period in August – and indeed undermining fears of a damage La Nina.

"While the weather threat during June was very real, it would seem most weather forecasters overestimated the heat for July which has in turn caused people to question how hot August is really going to be," said Tregg Cronin at Halo Commodity Company.

"Everyone from [official US meteorologists] to subscription weather services were touting a La Nina showing up as early as late July and now it looks as though it could be September at the earliest." ...MORE
Here's the latest Columbia Uni./IRI Plume of the various model forecasts: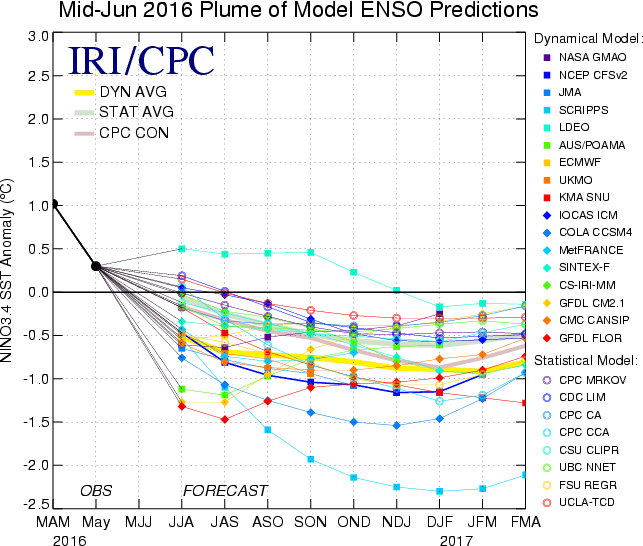 Remember, La Niña
conditions
are reached when the temperature anomaly hits -0.5
°
C while a full-blown La Niña requires three rolling three-month periods i.e. five consecutive months below the -0.5
°
C threshold.