From MacRumors:
Apple today will release its fiscal third quarter earnings results, reflecting a three-month period that ended in late June, and the consensus among analysts is that the company will report a second consecutive decline in iPhone sales and overall revenue. That same scenario played out last quarter for the first time since 2003.

In fact, some analysts have forecasted that iPhone sales may be as low as 38 million to 40 million units, a decline of up to 20 percent compared to the year-ago quarter. If the estimates prove to be accurate, it would mark Apple's worst quarter of iPhone growth ever in the smartphone's nine-year history.

Apple itself provided guidance of between $41 billion and $43 billion in revenue, which would be up to 18 percent lower than the $49.6 billion in revenue it posted in the year-ago quarter. Wall Street expects revenue to be around the $42.1 billion mark, with earnings of $1.39 a share -- one analyst has EPS as low as $1.35.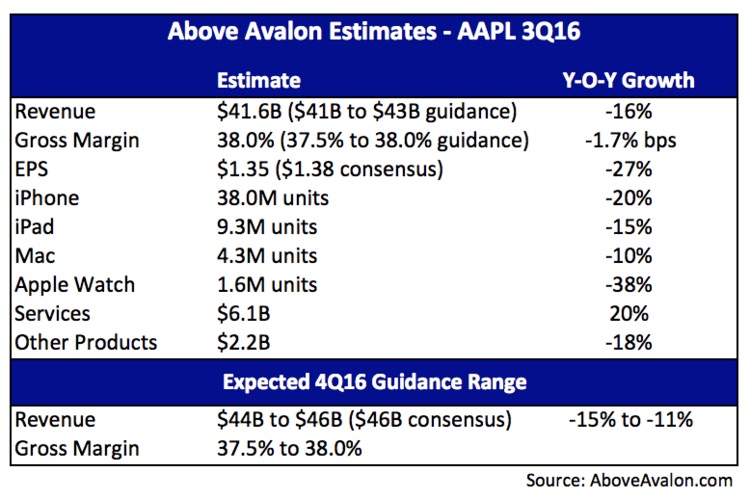 iPhone accounts for around two-thirds of Apple's revenue, and an even greater portion of its profits, so the device's recent slide is concerning for investors -- reflected in the price of Apple shares, down around 21 percent from a 52-week high of $123.91. The good news for Apple is that many analysts believe it will "bottom out" in the June quarter and return to iPhone and revenue growth by the 2017 fiscal year.

But, until then, the bleeding is expected to continue. iPad sales are forecasted to decline for a tenth consecutive quarter, while market research firm IDC's estimated Apple Watch sales of 1.6 million in the June quarter would be 55 percent lower than the year-ago launch quarter. Mac sales are also projected to decline by up to 10 percent as buyers await a 2016 MacBook Pro and other new models....MORE
As Forbes put it:
Could We Be Looking At A Guide Up From Apple When It Reports Tonight?
...The fact that Apple sales are in decline is not going to be news to anyone. Wall Street analysts have been slashing their estimates and price targets almost on a daily basis for what seems like eons.Almost everyday, investors have to face up to a plethora of negative news flow on Apple.

Current Street consensus is for Apple to earn $1.39 per share on revenues of $42.1 billion for the June quarter, which is the company's fiscal third quarter. A year ago, Apple earned $1.85 per share on revenues of $49.6 billion in the comparable quarter. As far as unit sales of the iPhone, analysts are expecting the company to have sold 40 million iPhones in the June quarter, down 16% YoY....
The stock is confused at $97.27, down 7 cents.