Ummm, just spitballin' here but uh, is it because someone's buying bonds in size?
From ZeroHedge:
Despite soaring vaccination rates, surging economic data and spiking inflation prints, Treasury yields have been (unexpectedly) plunging in the last few days with 10Y, for example, down 15bps this week alone, to its lowest in five weeks...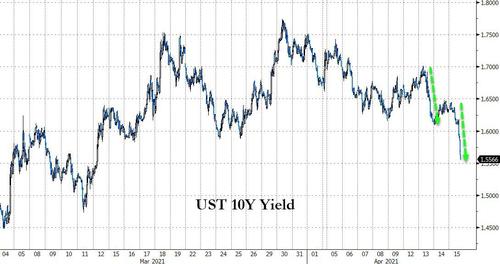 Source: Bloomberg
Yields are tumbling across the entire curve as 30Y seemed to find resistance at the Nov 2019 highs just too much to break...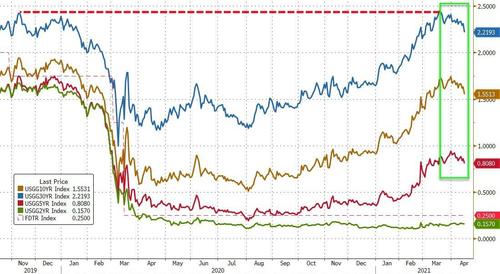 Source: Bloomberg
And it's not just bonds, the reflation trade (value over growth) has notably unwound in recent weeks...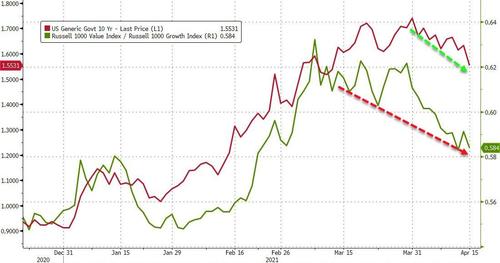 Source: Bloomberg
The question is why?

Nomura's quant guru Masanri Takada has the answer - Short-term investors (global macro hedge funds, CTAs) have been conspicuously backing out of short positions in USTs.

Short-term investors trimming their short UST positions

Global equity markets, while holding at high levels (especially in the US), are now merely inching upwards. Major classes of investors appear to be adopting more of a wait-and-see attitude. That said, our own gauge of sentiment among equity market investors worldwide is still holding in positive territory, indicating a preference for risk-taking over risk avoidance. It looks as though the risk-on mood remains intact, with some psychological support from the recent upside surprises in the macroeconomic data....
.....MUCH MORE