Seriously.
From The Guardian:
Skydiver to jump from plane without a parachute on live TV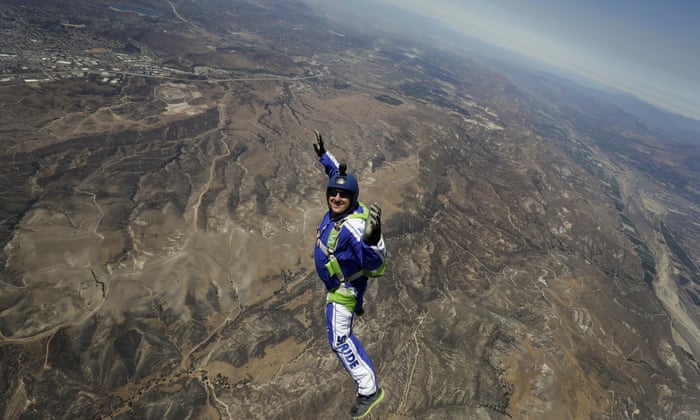 He's made 18,000 parachute jumps, helped train some of the world's most elite skydivers, done some of the stunts for Ironman 3. But the plunge Luke Aikins knows he'll be remembered for is the one he's making without a parachute. Or a wingsuit.

Or anything, really, other than the clothes he'll be wearing when he jumps out of an airplane at 25,000 feet this weekend, attempting to become the first person to land safely on the ground in a net.
The Fox network will broadcast the two-minute jump live at 8pm ET (5pm PT) Saturday as part of an hour-long TV special called Heaven Sent.

And, no, you don't have to tell Aikins it sounds crazy. He knows that.

"If I wasn't nervous I would be stupid," the compact, muscular athlete says with a grin as he sits under a canopy near Saturday's drop zone.

"We're talking about jumping without a parachute, and I take that very seriously. It's not a joke," he adds.

Nearby, a pair of huge cranes define the boundaries where the net in which Aikins expects to land is being erected. It will be about one-third the size of a football field and 20 stories high, providing enough space to cushion his fall, he says, without allowing him to bounce out of it. The landing target, which has been described as similar to a fishing trawler net, has been tested repeatedly using dummies.

One of those 200-pound (91-kilogram) dummies didn't bounce out. It crashed right through.
"That was not a good thing to see"...MORE