This piece notes the storms across the Midwest but it should also be pointed out that it has been cooler than average—in some places much cooler—which has slowed evaporation of rain that falls and slows the emergence of crops that do get in the ground. As they
teach middle schoolers
in Kansas:
...According to the Kansas State University Department of Agronomy, if a farmer plants corn from when the ground temperature is between 50°F and 55°F, it can take 18 to 21 days to see emergence. If the farmer plants corn when the ground temperature is between 60°F and 65°F, it might only take 8 to 10 days to see emergence....
Here's the last 90 days of mean temperatures across the contiguous 48 states via NOAA: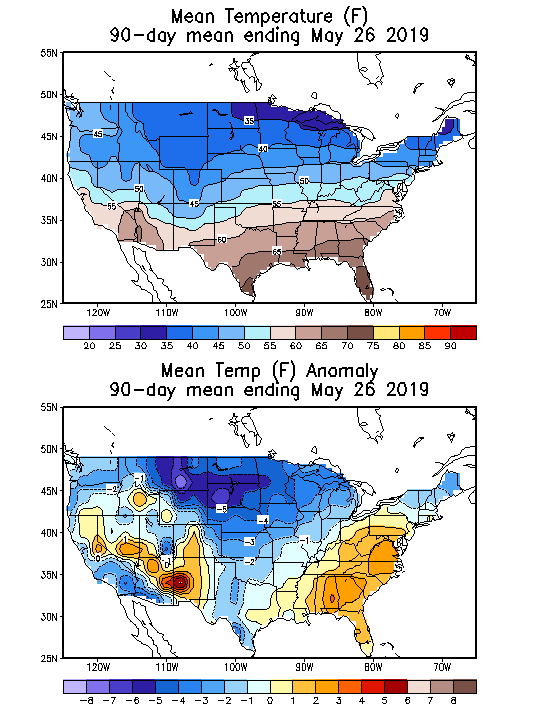 Note that departure from average in the anomaly map across so much of the Midwest.
The Dakotas grow the best pasta wheat in the world, durum, and if that 90-day trend persists your fettuccine is going to be more expensive.
From AgWeb:
Strong Weekend Storms Continue to Delay Planting


May 28, 2019



Good Morning from Allendale, Inc. with the early morning commentary for May 28, 2019.

Grain markets jumped higher again as strong, weekend storms continued to pour heavy rains across a large part of the U.S. growing region and threatens to slow an already delayed planting season. Above-normal rainfall is expected across most of the Midwest and Plains farm belt over the next 15 days, further delaying planting of corn and soybeans and potentially damaging the quality of the developing winter wheat crop, forecasters said. Trade will continue to monitor weather maps as well as crop progress over the next few weeks.

Last week, July corn futures were up 21.25 cents, July soybean futures up 7.5 cents and July wheat futures up 26.5 cents. Soyoil futures were down 20 points and soymeal was up $0.40.

Crop progress report will be released today at 3 p.m. CST. Traders are looking for corn planting at 63-65% complete (49% last week, 92% last year and 91% 5-year average). Soybean planting expected at 28-30% (19% last week, 77% last year and 62% 5-year average). Hard red Spring wheat planting at 86-87% (70% last week, 91% last year and 92% average).

President Trump pressed Japanese Prime Minister Shinzo Abe to even out a trade imbalance with the U.S. and said he was happy with how things were going with North Korea despite its recent missile and rocket launches....

...CFTC Commitments of Traders report (as of 5/21/19) showed managed funds new net positions short -116,729 corn contracts, short -153,131 soybean contracts, short -41,760 wheat contracts, long 72,705 live cattle contracts and long 56,984 lean hog contracts....
...
MORE
Corn was setting new 13 month highs this morning with soybeans and Chicago (soft) wheat playing catch-up: