Yesterday Neil Hume, the Financial Times' commodities editor, flagged an interesting development in electric vehicle land:
Bacanora Lithium pulls plug on $100m share sale
Aim-listed company had announced plan to tap investors for fresh funds on Monday
Bacanora Lithium has pulled the plug on a proposed $100m share sale, blaming volatile prices for the battery raw material.
The Aim-listed company announced the fundraising plan on Monday alongside news of a strategic investment of $90m by two new backers. The move spooked the market and saw Bacanora shares fall from 80p to 67p.
Lithium miners are racing to secure financing as they build projects to capitalise on rising demand for electric cars. But with so some many companies entering the lithium space, many analysts and investors are concerned about a looming supply glut that will put pressure on prices.



Prices for lithium carbonate, the most common type of lithium used in batteries, have fallen by 14.5 per cent to trade at $17,750 a tonne this year, according to Benchmark Mineral Intelligence....MUCH MORE
Although we've been posting on lithium for over a decade, for the recent run-up in periodic table investing we preferred cobalt to lithium going back to an FT piece by Mr. Hume's confrère (and co-author of the above story) in May 2016:
Why the CIA Reads The Financial Times (and you should too) Tesla and Cobalt
A couple weeks ago we posted a seemingly innocuous piece with a boring headline: "'Freeport Sinks On Sale of Africa Copper Mine To Chinese' (FCX; LUN.TO)".

I figured there were at best two thousand people in the whole world who knew or cared about the back story and real import of what was going on so I'd just drop it as an Easter egg for the cognoscenti and other assorted electric vehicle/conflict mineral/African warlord/Elon Musk/extractive industry/

Génocidaire hunter/U.S. political corruption watchers

to find.

Well now that cat's out of the bag.

Big kudos to the FT's Henry Sanderson for recognizing one hell of a story and a small request for the Financial Times: Can you tell us what the old ENRC is up to these days?

From The Financial Times, May 25:
China plays long game on cobalt and electric batteries...MORE
Well, cobalt futures quadrupled on the LME and in fact the blue stuff was the best performing portfolio commodity in 2017.
Eighteen months ago we went with cobalt over lithium as the battery material that would be in shortest supply and think that is still a correct assessment. However, if long-suffering reader is interested the 'search blog' box has quite a few hits for 'lithium'....
But all good things come to an end:
(LME cobalt)

source: tradingeconomics.com
And even though we didn't have an interest in lithium we kept track of it:
January 2018
Lithium: Here Comes the Supply Surge
And a couple weeks later:
Lithium: After Four Years of Negotiating, SQM and Regulator Reach Agreement On Increased Production (SQM; ALB)
Since those January '18 posts the two stocks highlighted in the headline haven't done so well:
FinViz
And to top it all off as the FT reported on July 17th
"
LME moves closer to lithium contract launch with request for pricing providers
"
The London Metal Exchange has moved a step closer to launching the world's first lithium futures contract, issuing a request for pricing providers, according to a document seen by the Financial Times. The LME is set to launch a cash-settled lithium contract in the second half of 2019, which would allow traders to speculate on prices for the electric car battery ingredient....MORE
Keep in mind what often happens when an "investment" without futures suddenly has an instrument that allows shorting. (looking at you, Bitcoin)
By mid-2017 we had already started casting about for the next obscure element and on June 29, 2017 posted:
The Cobalt Trade Worked Out, On To Ruthenium
Which, he said modestly led to this story in December, 2017:
"Rush for Ruthenium Has Metal Soaring 375 Percent in 2017: Chart"
From
Bloomberg Quint
: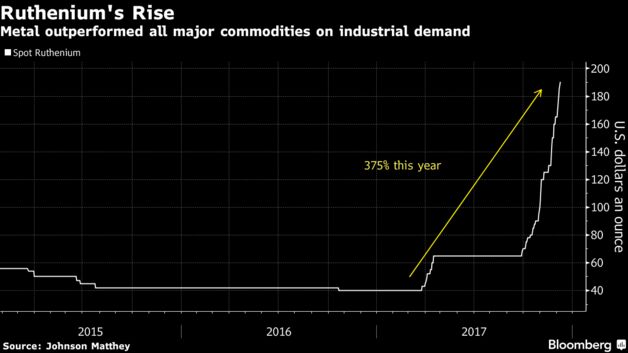 (Bloomberg) -- Demand for hard drives and for electrochemical applications has driven little-known ruthenium to the highest price in more than seven years. Soaring to $190 an ounce, according to Johnson Matthey Plc, it's more than quadrupled this year, outperforming all major commodities -- and it may have more to run. "This rally has legs," Jonathan Butler, a precious metals strategist at Mitsubishi Corp. in London, said by email. "There's good industrial buying out there."
So, one might be asking oneself, what's next, how do I find what moves after cobalt and ruthenium?
It's easy, you can do it at home.
First gather up your tools: some darts and a periodic table:....
MORE
Throw your darts, note where they land, invest away and survive, thrive & save civilization!
We'll be back with one possibility next week
In the meantime, read the disclaimer.
Past success in not a guide for future civilization performance




The information provided in Climateer Group webinars and accompanying material is for informational purposes only. It should not be considered civilizational or societal advice. You should consult with a technologist or other qualified professional to determine what may be best for your individual needs.




Climateer Group does not make any guarantee or other promise as to any results that may be obtained from using our content. No one should make any survival decision without first consulting his or her own survival advisor and/or deity and conducting his or her own research and due diligence.




To the maximum extent permitted by law, Climateer Group disclaim any and all liability in the event any information, commentary, analysis, opinions, advice and/or recommendations prove to be inaccurate, incomplete or unreliable, or result in any deaths or other losses.




Your mileage may vary, close cover before striking, not all civilizations thrive, good luck.