The stock is up $9.61 (4.43%) at $226.60.
From Bloomberg:
Tesla Flips the Switch on the Gigafactory
Musk meets a deadline: Battery-cell production begins at what will soon be the world's biggest factory—with thousands of additional jobs.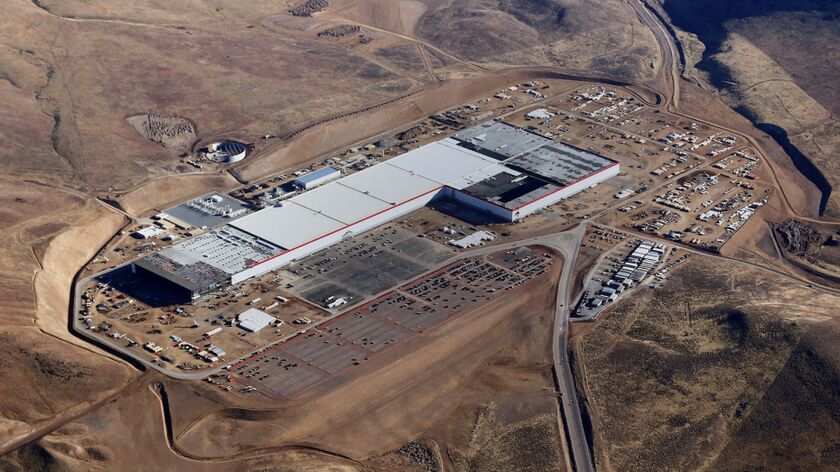 Tesla Motors Inc.'s Gigafactory, as of this week

Source: Tesla
The Gigafactory has been activated.

Hidden in the scrubland east of Reno, Nev., where cowboys gamble and wild horses still roam—a diamond-shaped factory of outlandish proportions is emerging from the sweat and promises of Tesla CEO Elon Musk. It's known as the Gigafactory, and today its first battery cells are rolling off production lines to power the company's energy storage products and, before long, the Model 3 electric car. 1

The start of mass production 2 is a huge milestone in Tesla's quest to electrify transportation, and it brings to America a manufacturing industry—battery cells—that's long been dominated by China, Japan, and South Korea. More than 2,900 people are already working at the 4.9 million square-foot facility, 3 and another 4,000 additional jobs (including temporary construction work) will be added this year through the partnership between Tesla and Panasonic. 4

By 2018, the Gigafactory, which is less than a third complete, will double the world's production capacity for lithium-ion batteries and employ 6,500 full-time Reno-based workers, according to a new hiring forecast from Tesla.

The Expansion of the Gigafactory


The full activation of the Gigafactory carries existential significance for Tesla, representing a new sense of urgency at a company known for its unreachable deadlines. After missing almost

every aggressive product milestone

it set for itself over the last decade, Tesla must prove to investors and customers that it can stay on schedule for its first mass-produced car.




There are promising signs. Wednesday marks the third successful target Tesla met for the New Year. The company fulfilled its promise to rapidly complete a

massive battery storage project

to back up the grid in California

5

; it promptly rolled out promised software upgrades to cars equipped with new Autopilot hardware

6

; and now its begun battery cell production at the Gigafactory.

7

That said, the company did

fall short

of its target to deliver 80,000 cars in 2016, reporting just 76,230 completed in time....

MUCH MORE
Yesterday:
We'll be back with more.