The headline writer made one minor error.
To sound truly portentous you should introduce every twentieth blog post with the words "So It Begins..."
From the otherwise estimable Wolf Street:
"The bottom has not entirely fallen out of demand, though."
Commercial real estate has experienced a dizzying price boom since the Financial Crisis. It goes in cycles. Rising rents and soaring property prices along with cheap credit drive up construction, which takes years from planning to completion, and suddenly all this capacity is coming on the market just as demand begins to sag…. That's when the cycle turns south.

On a nationwide basis, the boom has been majestic. But now, after posting "nearly double-digit gains for each of the past few years," according to Green Street's just released Commercial Property Price Index (CPPI) report, "property appreciation has come to a halt."

The index was essentially unchanged in April from March – actually microscopically down for the third month in a row, after having soared 23% past its prior crazy-bubble peak of 2007.

While there is "no evidence" that prices of Class A properties have fallen, prices of Class B properties "are probably lower than they were at the start of this year," the report explained.
And this is what the boom-and-bust cycle of commercial real estate looks like, according to the CPPI, which tracks the value of "institutional-quality" apartment, industrial, mall, office, and strip-retail properties. Note how there are no "plateaus" in these cycles: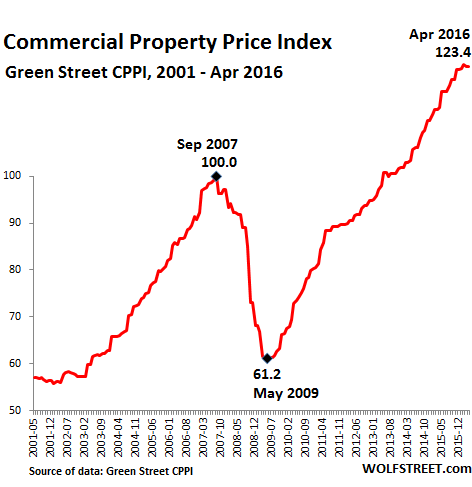 Real estate is local, and each sector has its own dynamics. In some cities, the office sector is still booming. In others, it has hit a wall, as in Houston which faces a billowing office glut, soaring subleases, collapsing lease volume, and hefty discounts on rents [read… Houston Office Market Melts Down].

Then there's San Francisco. Boston Properties, the largest office landlord in the city, already warned of the cooling market in its earnings call. It owns, among others, the 1.4 million sq-ft Salesforce Tower, the tallest building in the city, to be completed by early 2018. It's just one of the numerous developments in a historic construction boom visible to anyone trying to drive down the congested streets blocked with construction equipment in certain parts of SF. For the moment it's 59% leased....MORE