Why did the government do this offering?
From Bloomberg, May 24:
VTB Capital was sole arranger of the deal to sell 10-year debt
Russia sold $1.75 billion of Eurobonds, marking its return to international debt markets even as U.S. and European Union sanctions remain.

The government placed the 10-year notes at a yield of 4.75 percent on Tuesday, according to Finance Minister Anton Siluanov. That compares with initial guidance of 4.65 percent to 4.90 percent, said a person with knowledge of the offering who wasn't authorized to speak. VTB Capital, the investment-banking arm of penalized state lender VTB Group, was the sole arranger. The main buyers of the Eurobonds were investors from Great Britain, the head of the Finance Ministry's debt department said.

"Despite unofficial pressure exerted on certain elements of the global financial-market infrastructure, demand from foreign investors of various regions showed a high level of trust in Russia as an issuer," Suiluanov said in a statement.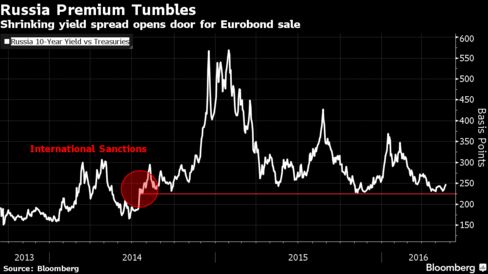 The first Eurobond sale since 2013 helps the government plug a budget deficit that's forecast to be the biggest in six years and marks a symbolic victory for President Vladimir Putin, who has sought to play down the impact of restrictions imposed for Russia's role in stoking the Ukraine crisis. While the funds raised in the sale won't be channeled to blacklisted companies, there's "no assurance" the bonds will be eligible for major international clearing systems on which many foreign funds rely, according to the prospectus.

"It is encouraging to see the first Eurobond issuance," Paul Christopher, head of international strategy at Wells Fargo Investment Institute, said by phone from St. Louis, Missouri. "The sale may be an indication that foreign sanctions are less important for investors than a few years ago. But uncertainties persist longer term -- what is going to happen with the sanctions regime, how welcome will foreign investors be in Russia in the future?"

Investors bid about $7 billion for the bond and more than 70 percent was placed with foreign investors, Siluanov said in e-mailed comments. This year's budget authorizes a sale of as much as $3 billion. The nation may potentially sell the remaining $1.25 billion of Eurobonds by the end of 2016, Konstantin Vyshkovsky, the head of the Finance Ministry's debt department, said in an interview in Moscow.

"There wasn't any real financial need to issue bonds," Vyshkovsky said. "We sold them to confirm our presence in the market, as a long hiatus is bad for an issuer, to feel out investor sentiment and to understand our possibilities overall."

Russia's $3 billion of Eurobonds due 2023 gained, sending the yield three basis points lower to 4 percent. Existing Eurobonds have handed investors 6.6 percent this year amid a rebound in oil.

Investors Skeptical
"Less than $2 billion is not a lot on a grand scheme of things," Steve Hooker, managing director and portfolio manager at Newfleet Asset Management LLC said by phone. "The idea was that Russia wanted to say that it is making business as usual, but there are a lot of investors who are still skeptical."...MORE
On Monday FT Alphaville looked at the nuts and bolts of the issue:
Mr Putin's proceeds (and his bond plumbing)
When sovereign debtors issue bonds, the "use of proceeds" clause tends to be mere boilerplate.
"General budgetary purposes" usually covers it — although bondholders (those who bother to read the contract) will sometimes just have to hope that means something like servicing existing debts, rather than servicing the president's daughter's limo.

Similarly, the "general corporate purposes" line in a state enterprise's government-guaranteed debt will usually be taken to mean just that, and not something worryingly niche, like arming a small navy. (It happens.)

They're sovereigns. You're not supposed to be too insistent about what they do with the money.
Times have changed though. Or at least they have for Russia.


In a new international bond issue announced on Monday — a rather rare opportunity these days to lend to Putin's Russia, at a targeted yield of less than 5 per cent – the use of proceeds clause is unusually specific:


The net proceeds of the issue will be credited to the US dollar account of the Federal Treasury (Treasury of Russia) in the Bank of Russia, which is used to cover US dollar expenses (such as interest and principal due on foreign debt. Any proceeds not retained in the Federal Treasury Account would be sold to the Bank of Russia, where they would become part of the Bank of Russia's foreign exchange reserves. The net proceeds will not be directed to any activity that would be prohibited for a US or EU person or entity under sanctions laws, directives or regulations applicable to them.

Which of course has been the issue all along with this bond, the first to be issued by Russia since it annexed Crimea in 2014, bringing economic sanctions from the West.

No US or European bank is arranging this bond. The Russian bank VTB has stepped in, no doubt for its substantial experience arranging debt for interesting governments all over the world, such as Mozambique.

US and European banks were advised by their governments' officials that it would not be a good idea. The Russian sovereign is not a sanctioned entity and it is not illegal to help it raise debt....MORE