$68,493 per day for 39,000 square feet?
We may have found one of the problems with retail. Back in 2011 Airbnb was offering Liechtenstein for $70 thousand per night, links below.
From the New York Post:
Ralph Lauren still paying rent at abandoned former flagship store
For passersby on Fifth Avenue on Thursday, there was no evidence that legendary American designer Ralph Lauren operated a grand flagship store at 55th Street.

The royal blue awnings are gone and the flagpole, which once proudly flew a banner with the fluttering image of a horse and polo player, stands naked.

And just as important, there is no new tenant setting up shop and, according to sources, no broker has started marketing the 39,000-square-foot space that has been dark since the designer shut off the lights one last time on Saturday.

The only constant, it appears, is that Ralph Lauren Corp. continues to pay rent of nearly $70,000 a day.

"That gives you a good indication of how poorly they were doing at that location that they are paying rent there on an empty space rather than stay open until they find a new tenant," said one real estate expert, who did not want to be identified.

The stunning and sudden departure of the retailer after just two years on the most famous shopping corridor is unprecedented, said Tom Cusick, president of the Fifth Avenue Business Improvement District. "I don't recall any company pulling out of a location with a long-term lease after such a short time on Fifth Avenue."

The iconic fashion house, which has been fighting sagging sales and has closed 50 other stores, signed a $400 million, 16-year lease for the flagship store in 2013. That rent averages $25 million a year, or $68,493 a day....MORE
The graphic the Post chose to illustrate the story:
Ralph Lauren's Fifth Avenue store is some white elephant - the lease
isn't up for about 13 years at an eye-popping rate of $68,500 a day.
Ouch.
Meanwhile in comparisons, we linked to a post in June, 2010 that may have given someone an idea
"Snoop Dogg tries to rent entire country of Liechtenstein"
From Foreign Policy's Passport blog:
In a too-good-to-check item, the Daily Mirror reports that rapper Snoop Dogg recently attempted to rent the entire nation of Liechtenstein for a music video:


The request surprised authorities in the state of Liechtenstein - population 35,000 with an area of 61.7 square miles between Switzerland and Austria.

Local property lease agent Karl Schwaerzler said: "We've had requests for palaces and villages but never one to hire the whole country before.">>>MORE
which was followed a few months later by a story in the Guardian:
Liechtenstein for hire at $70,000 a night
Liechtenstein rental scheme includes customised street signs, temporary currency and accommodation for 150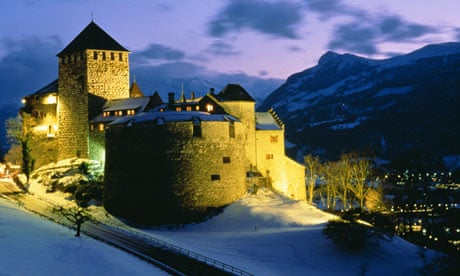 Vaduz castle in Liechtenstein. Photograph: Paul Trummer/Getty Images
Executives with cash to burn traditionally hire luxury yachts, secluded villas or expensive hotel suites to impress clients. Now they can take corporate hospitality to a new level by hiring an entire country, albeit a small one.

The principality of Liechtenstein has decided to make itself available to private clients, from $70,000 (£43,000) a night, complete with customised street signs and temporary currency. It's a big step for the country best known for its tax-haven status and exporting false teeth: last year Snoop Dogg, pictured, tried to hire it to use in a music video, but received a stern refusal from authorities.

Since then they have woken up to the marketing opportunities of their mountainous landscape. The price tag includes accommodation for 150 people, although the 35,000 inhabitants would remain.

Any personal touches, such as an individual logo created out of candle wax or a customised medieval procession, come at an extra, undisclosed cost.

Upon arrival in Liechtenstein, visitors would be presented with the symbolic key to the state, followed by wine tasting at the estate of the head of state, Prince Hans-Adam II. Other options include tobogganing, fireworks and horse-drawn carriage rides through the capital Vaduz....MORE
So what's the all-in price for an après-wine-tasting tobogganing outing with the Prince?
Under the fireworks, natch.
While throwing temporary currency to the Liechtensteiners (who suffer GDP envy re: Monaco)
With Ralph Lauren steering the toboggan.