There's an old saying that goes something like: "The restaurant business is where people with money go to lose it"
Years ago I was counseled to stay away from anything retail and develop interests elsewhere. Damn good advice.
Use the restaurants as an economic indicator and a place to grab a meal and you avoid a lot of problems.
From Thrillist: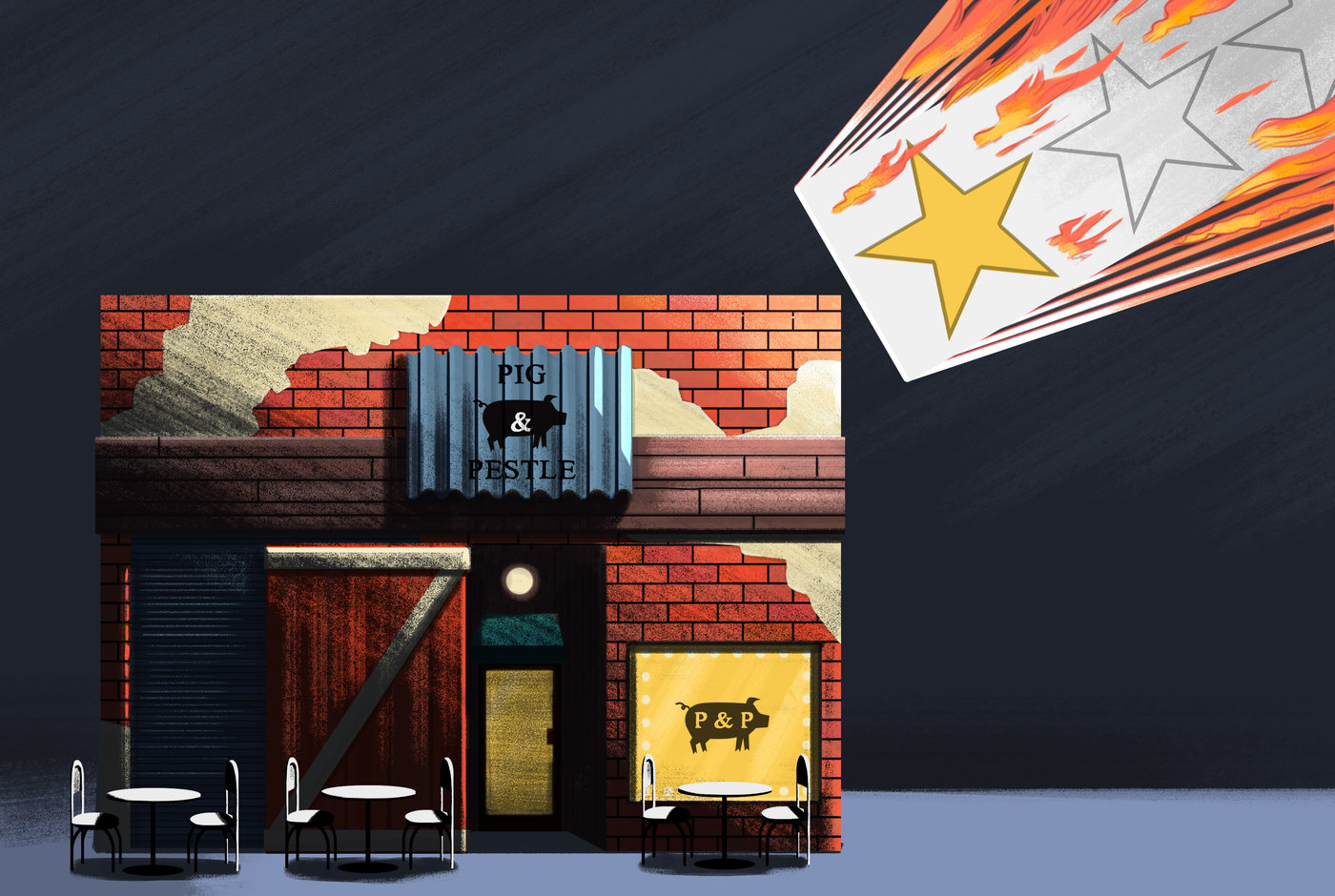 Rising labor costs, rent increases, a pandemic of similar restaurants, demanding customers unwilling to come to terms with higher prices -- it's the Perfect Restaurant Industry Storm. And even someone as optimistic as Ricker offers no comforting words about where we're headed.




"These are tough issues that many restaurateurs may face in the very near future," he says. "Closing now is preemptive."

I want you to understand why America's Golden Age of Restaurants is coming to an end.

AQ opened for dinner at the corner of Mission and 7th St on a rainy Thursday, November 3rd, 2011. Though this was Matt Semmelhack's first restaurant, the Princeton graduate and former real estate analyst spent several years working in restaurants in all capacities with an eye towards this opening, and he partnered with an experienced fine-dining chef in Mark Liberman, who'd worked at Michelin-starred restaurants in the past. "I wasn't flying totally blind," laughs Semmelhack. "Just, you know, partially."




He and Liberman wanted to create a hyper-seasonal restaurant with a menu and decor that changed with the seasons. So winter meant stark white walls and Brussels sprouts and winter squash, and fall meant harvest colors and apples and mushrooms, and summer meant tomatoes and bell peppers and, um, bikinis or something. Menus changed whenever new ingredients came in. "I think we had like five or six fall menus at one point," says Semmelhack. "If there was something new at the market, even just for a couple of weeks, chef was going to use it in a dish."




The buildout of the restaurant, from lease signing to serving the first customer, took 13 months, a relatively short period of time in the restaurant world. Total costs to open were just under a million dollars. No paltry sum, but a relatively standard amount for a restaurant in gilded San Francisco, helped along by the somewhat questionable location in Mid-Market, an area that was mostly known for its homeless population's casual attitude towards public nudity. "We had no idea what to expect," Semmelhack says. "It could've broke bad."






"I remember seeing my wife in a gorgeous dress outside of Lincoln Square. I remember sitting amongst all these legends, people I'd looked up to, restaurants that I'd studied, and just feeling really proud. And then we went to Gramercy Tavern after (whose own Michael Anthony had just won for Best Chef New York City), and I got to meet Danny Meyer and totally fanboy-embarrass myself." He stops talking and leans back in his chair. "We felt pretty invincible."

In the restaurant world, rent always sucks. Unless you manage to play it perfectly, as a restaurant owner you're either moving into a sketchy or "emerging" neighborhood where the rent is cheap but few want to go there, or you're overpaying for an established 'hood and need to be a runaway success from day one. And even if you do manage to make it in the former type of neighborhood, your success often ends up pricing you out of the 'hood you helped revitalize.




In Miami, Michelle Bernstein's Cena by Michy helped rebirth the MiMo historic district but was

forced to close this year

, after the landlord attempted to triple the rent. And even

Danny Meyer had to close and move Union Square Cafe in New York

, which, since 1985, had served as one of America's culinary landmarks, when he couldn't rationalize paying the huge rent hike the landlord proposed.



Nonetheless, rent hikes are the devil the restaurant owner knows. The tricky part is figuring out how to survive when every other cost rises too.

Thanks to its dubious location, AQ didn't really have a rent issue (in fact, once it became a national success, the landlord was so incensed at not charging more that he actually sued the real estate broker). And in 2013, it actually increased its revenue, pulling in $3.1 million. But despite making $200K more than it had the previous year, its net profit was $50K lower, as costs continued to creep up and up. What started as $250K profit and an 8.5% margin in 2012 was down to $40K and 1.5% by 2015. Because it had to pay off $42K in Small Business Association loans each year, this meant negative net cash flow for 2015.




Then came 2016. In 2016, AQ's projected revenue was $1.6 million, down

a million dollars

from the year before. They went from doing 240 covers (dinners served) per night at their peak to around 100 this past year. Naturally, there were a lot of factors at play. Maybe Semmelhack and Liberman took their eyes off the ball while expanding their restaurant empire. Maybe Michelin's refusal to award AQ a star cut the restaurant off from deep-pocketed travelers, crucial to such an ambitious spot after the new-restaurant shine wears off. Maybe it's because there were 3,600 restaurants in SF when it opened, and now the SF Environmental Health Department puts that number at 7,600. Maybe the physical and mental toll of running an aspirational sit-down restaurant for five years was just too much....

MORE