Don't mention the Tesla.
We'll have more on NVIDIA and The Consumer Electronics Show in a little bit. After yesterday's keynote speech by Mr. Huang the stock opened on an uptick but is now trading down $1.61 (-1.55%) at $102.78.
Tesla $223.26 down $3.73 on the day.
From Benzinga:
Citron Research activist short seller and newsletter author Andrew Left has earned a reputation for accusing companies of fraud and deception and profiting off of their downfall.

This week, Left turned his attention to 2016 market leader NVIDIA Corporation NVDA 0.17%, tweeting that he believes the market "is disregarding headwinds" for the company and predicting shares would return to the $90 level in 2017. NVIDIA stock plunged 6.8 percent on the day of Citron's tweet and were down 3 percent on the final trading session of the year.

Here's a look at several other times Citron has moved the market with a tweet.
In December 2015, Citron tweeted that Express Scripts Holding Company ESRX 0.72% was the "Philidor of the pharma industry." The stock tanked 6.7 percent.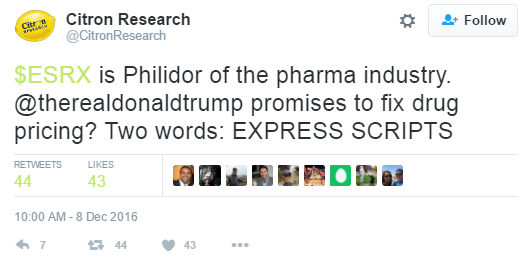 In November 2015, Citron tweeted that Mallinckrodt PLC MNK 0.35% was a "far worse offender" of the drug reimbursement system than Valeant. Mallinckrodt stock plummeted 14 percent.

In March 2016, Citron targeted Tesla Motors Inc TSLA 1.33% on Twitter, calling for the stock to dip "to $100 by year's end." The $100 prediction didn't come true, but Tesla's shares fell 3.1 percent following the tweet.

In June 2016, Left delivered a cryptic tweet about Facebook Inc FB 0.25%, saying that he would not be commenting on Facebook and that the focus should "be on the Orlando tragedy and not mkt valuations." Facebook shares dipped 2.2 percent.

In December 2015, Left tweeted that Mobileye NV MBLY 0.57% was "short of the year" for 2016. Shares tanked nearly 7 percent....
...
MORE