The quoted bit is a September 2007
Climateer Line of the Day winner
from Tim Annett
writing at
the former Wall Street Journal flagship blog, MarketBeat. The complete winning quote was:
Like a gang of clowns in a pie shop, Wall Street brokerages had a merry old time slapping one another with various downgrades, earnings-estimate parings and price-target reductions in the lead-up to their recent earnings announcements....
Here's today's story, from Wolf Street:
What's Going on with the Banks? Citi Cuts Goldman to "Sell," after Goldman Cut Citi to "Neutral"
But bank stocks have skyrocketed over the past three months.
Citigroup hit back at Goldman Sachs, after Goldman Sachs had slammed Citigroup in September. Citi analyst Keith Horowitz, in a note to clients, downgraded Goldman from the already dismal "hold" to a rare "sell" rating, citing Goldman's valuation. He said Goldman would need an additional $4 billion in full-year revenues above current estimates – which, according to Reuters, are pegged at $32.3 billion – to get to a return on equity (ROE) that would justify the valuation.

"While we expect Goldman will see improved trading revenues going forward, the path is relatively uncertain and the bar is relatively high," he wrote.
Goldman is scheduled to report earnings on January 18. So time to take profits and move on, according to Citi.

Shares of Goldman Sachs have jumped 55% since early October when the possibility of a Trump victory started moving into the foreground. Stock market participants have been betting that Trump would be a boon to Goldman, and they drove up the stock price. It was one of the big winners of the "Trump Trade" (via Investing.com):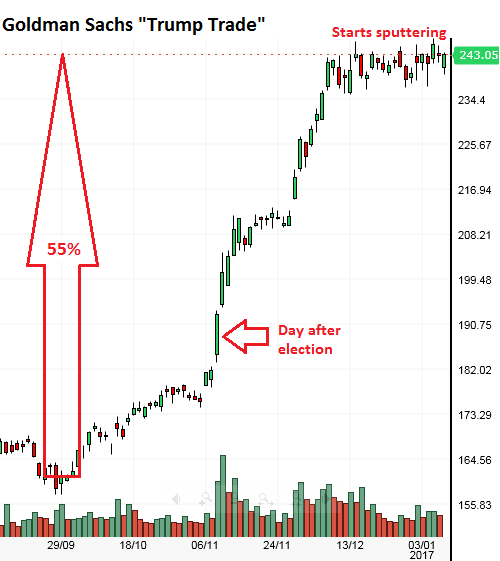 By now, Goldman's former executives are accumulating in the Trump administration. So the bet might have been a wise one in that regard. But the "Trump Trade" has gone a long way and has recently been sputtering. So the risk/reward relationship of owning Goldman shares, at this nose-bleed price, has flipped, according to the analyst.

While at it, Horowitz also downgraded Comerica to "sell." Shares of the bank have soared 43% since early October and are up 128% from a year ago. He clung to his "buy" ratings on Wells Fargo and Bank of America. It had been party time for banks in general since early October: the KBW Bank Index (BKX) has soared 32% in those three months....MORE
I'm trying to remember what happened to the banks after September 2007.
Something about "
Northern Rocked, City Shocked
" and "
Rock paper, scissored
" and then it was 2008 and then...