From Fast Company:
Tech upstarts like Box and Etsy saw a steep decline in valuation after going public last year—and regulators want to understand why.
A number of tech companies with sky-high valuations prior to going public last year—Box, Square, and Etsy, to name a few—have since seen their worth drop significantly. The Securities and Exchange Commission (SEC) thinks the stockbrokers who advise investors may be to blame, according to Bloomberg.

Chairwoman Mary Jo White said on Tuesday that a "significant" change in the value of a tech startup post-IPO begs the question of whether investors were misled by stockbrokers. "You have to make sure you don't have some very aggressive promoters taking advantage of that climate," she told Bloomberg. At a time when every startup worth upwards of $1 billion is touted as a "unicorn," this is doubly important, especially if the investors being courted don't have the know-how of venture capitalists....MORE
It doesn't 'beg' the question, it raises the question.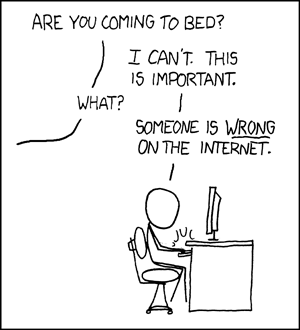 -
xkcd's finest
Here are the very earnest folks at
Explain xkcd
:
#386 Duty Calls