Ahead of the Short Term Energy Outlook here's the
Drilling Productivity Report
from yesterday.
Estimated December-January decline: 115,000 barrels per day.
Oil has reversed its early morning swoon and is now up 37 cents at $38.04. Highly speculative Chesapeake reversed early and led the Exploration & Production ETF (XOP) from red to green.
And from Peak Oil Barrel some analysis:
EIA Says Shale Continues to Decline
...The big drops here are Eagle Ford, Bakken and Niobrara. They have the Permian still increasing in production. An expected drop of 116,000 barrels per day drop in January is very significant.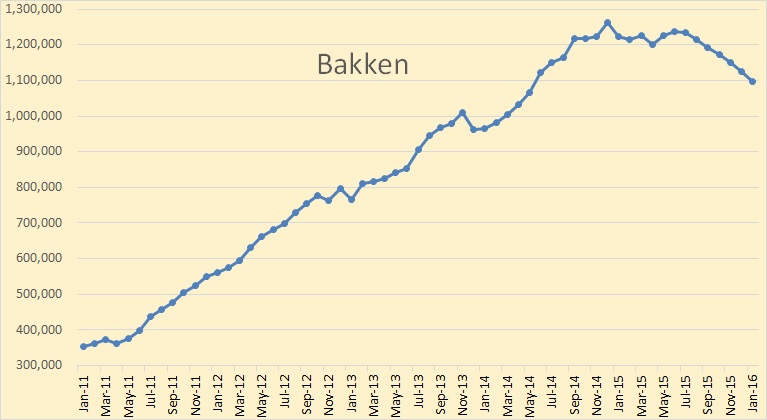 They have the Bakken in a continual decline after July. It is important to note that the EIA's Drilling Productivity Report has the Bakken decline, July thrugh September, very close to what the North Dakota Industrial Commission has. So it appears that the DPR is getting better with its production estimates.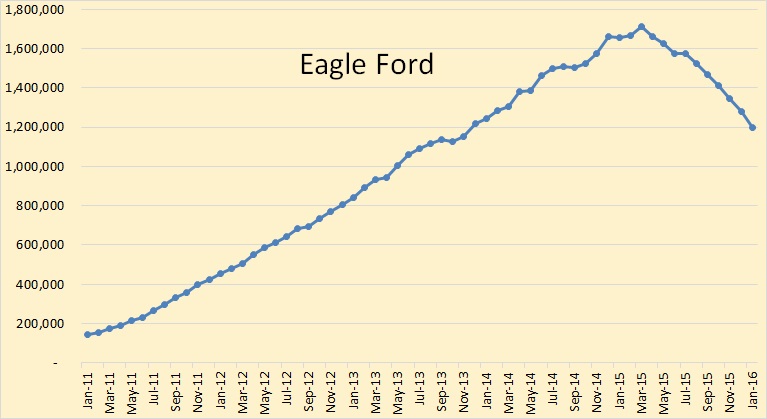 Eagle Ford is where the action is, or isn't, depending on your point of view. Dropping 77,000 barrels per day to start the New Year does not bode well for shale production in 2016....MUCH MORE
Previously:
August 10
Oil: EIA Drilling Productivity Report: Forecast For Further Declines In U.S. Shale Production
Since the May release when shale production for that month was estimated at 5.643 MMBbl/day the estimated production has declined at around 90,000 barrels per month to this most recent estimate (Aug. 10), for September, of 5.270 MMBbl/day.
This has not been a fast enough decline to reduce the market overhang.
However, for the first time, the production increase per rig is almost nil, an extra 1Bbl/day.
We're still looking for lower prices as production from the MENA countries remains near current production levels, albeit with some constituent changes: lower Saudi Arabia, higher Iraq and Iran, possible wild card in Libya etc. but the contribution of the U.S. to the increase in the oversupply has run it's course.
Until we see the $60-65 range that seemed to get the rigs spinning a couple months ago.
July 14
EIA Oil Drilling Productivity Report: Production Per New Well Continues Up, By Region Maintains Downtrend
June 8
EIA Drilling Productivity Report: Production Per Rig Continues Up, Production By Region To Decline 91,000 Bbl/Day
May 14, 2015
Oil--EIA Drilling Productivity Report: Production Per Rig Continues Higher; Per Region Rolls Over In June
April 14, 2015
Oil--EIA Drilling Productivity Report: Production Per Rig Still Heading Up
March 13, 2015
Oil & Gas Drilling Rig Efficiency Increasing Dramatically
Feb. 9, 2015
EIA Drilling Productivity Report: Production Per Rig Up Across the Most Prolific Shale Plays
Oct. 1, 2014
EIA Drilling Productivity Report (e.g. higher initial, faster decline in the Eagle Ford)
Aug. 2014
Oil & Gas: The EIA's Drilling Productivity Report
Nov. 2013
Oil&Gas: A Deep Dive Into the EIA's New Metric, Rig Productivity