From Al Jazeera:

Foreigners are buying up prime agricultural land, but proposed legislation could curtail the booming trade

Phil Corzine, a fourth-generation farmer from Illinois, is living the American dream, but it's happening on dusty soy farms in the interior of Brazil, rather than the cornfields of Iowa.
Corzine, 53, owns or manages seven farms in Goias and Tocantins states in the agricultural heartland of Brazil.

He started farming in Brazil in 2004, and now his company, South American Soy, has 100 foreign investors from the US, is worth about $6m, and has started to turn a profit the past two years.
"I could have never dreamed I would be down here managing a farm in Brazil. It's quite a leap from where I started," Corzine told Al Jazeera, while watching tractors off in the distance churn up soil preparing the land for a soybean season.

For Corzine, the difficulties of navigating Brazil's bureaucracy and the poor infrastructure are offset by cheap and plentiful farmland that is a fraction of the cost of the US.

A productive, sought-after piece of farmland in the US sells between $12,000 and $15,000 an acre, Corzine said, while a comparable piece of land in Brazil costs between $500 and $1,500 per acre.

"I can buy a lot more land down here with a lot less money," Corzine said. "For example, a 5,000-acre track of farm pasture with sufficient rainfall for soybeans is hard to find for sale in the US right now. And that is what I have down here in Brazil, and there is a lot more of it available here. So it's price and availability that drives what we are doing."

Foreign sales questioned
With soy prices soaring and a lingering drought in the US, farmers like Corzine are looking at places like Brazil to add new land. But they are facing new challenges, as Brazil debates restricting the amount of farmland foreigners can purchase.

In August 2010, Brazil's attorney general issued a re-interpretation of a 1971 law - which was never enforced - that would limit sales of farmland to foreigners to "50 modules" - roughly equal to 5,000 hectares or 12,000 acres.

The decision called for strict enforcement of the law, saying foreigners could not own more than 25 per cent of any municipality. No more than 10 per cent of a municipality could be owned by foreigners of the same nationality, and the same rules should also be applied to Brazilian agricultural companies with more than 50 per cent foreign capital....MUCH MORE (including video)
From our September 2011 post "
How They Harvest Soybeans in Brazil
":
Northern Brazil: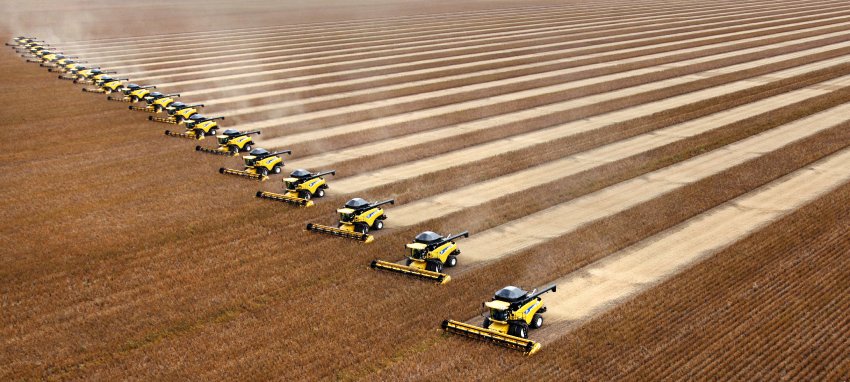 (AP Photo/Andre Penner)
Western Brazil:
More Mato Grosso:
Here the corn planters are following immediately behind the combines.
No till farming on steroids.
It appears the sleeping giant has awakened.
Brazil is now second only to the United States in soybean production.
They are third in corn production but distantly trailing the U.S. and China,