First up, a flashback to July 2017:
"Amazon Is Pure Madness: It's Going to Destroy Almost Every Industry Alive and It Must Be Stopped", Bezos Denies Being Satan's Minion
"I ain't nobody's bi...minion" a remarkably buff Bezos was overheard saying.

And from CB Insight, November 24:

The 9 Industries Amazon Could Disrupt Next
Since 1999, Amazon's disruptive bravado has made "getting Amazoned" a fear for executives in any sector the tech giant sets its sights on. Here are the industries that could be under threat next.

Jeff Bezos once famously said, "Your margin is my opportunity." Today, Amazon is finding opportunities in industries that would have been unthinkable for the company to attack even a few years ago.

Throughout the 2000s, Amazon's e-commerce dominance paved a path of destruction through books, music, toys, sports, and a range of other retail verticals. Big box stores like Toys "R" Us, Sports Authority, and Barnes & Noble — some of which had thrived for more than a century — couldn't compete with Amazon's ability to combine uncommonly fast shipping with low prices.

Today, Amazon's disruptive ambitions extend far beyond retail. With its expertise in complex supply chain logistics and competitive advantage in data collection, Amazon is attacking a whole host of new industries.

The tech giant has acquired a brick-and-mortar grocery chain, and it's using its tech to simplify local delivery, such as machine vision-enabled assembly lines that can automatically sort ripe from unripe vegetables and fruit.

In June 2018, it acquired the online pharmacy service PillPack. Now, it's building out a nationwide network of pharmacy licenses and distribution with its recently-announced Amazon Pharmacy product.

On its own Amazon Marketplace, the company is using its sales and forecasting data to offer de-risked loans to Amazon merchants at better interest rates than the average bank.

The tech giant has also seen a huge boost from the Covid-19 pandemic, as more consumers are shopping online and staying at home — Q3'20 profit hit $6.3B, up 200% from Q3'19. This gives Amazon even more spending power to tackle new industries.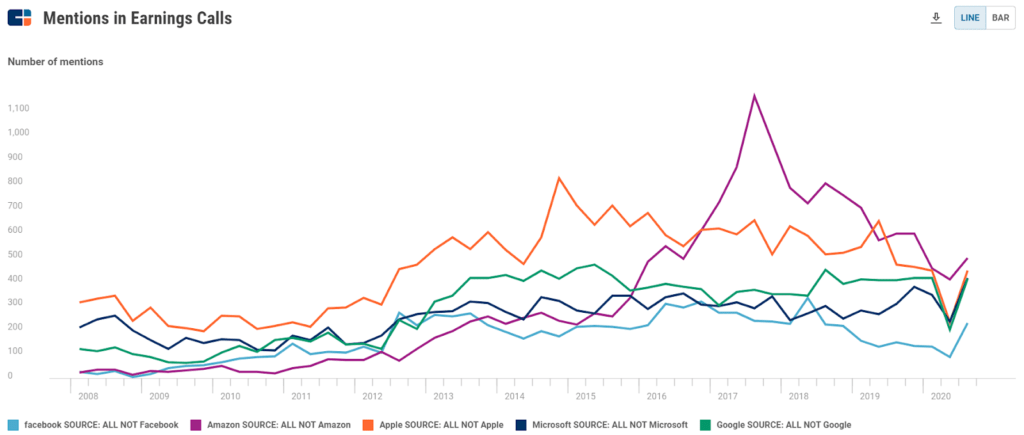 On calls with investors, executives of public American companies mentioned Amazon more often than they mentioned any other big tech company.

We researched the 5 industries where Amazon's disruptive intentions are clearest today — pharmacies, small business lending, logistics, groceries, and payments — as well as 4 industries where Amazon's efforts are more nascent. The disruptive possibilities in these industries — home & garden, insurance, smart home, and luxury fashion — remain speculative for now, but with Amazon's scale and advantages, they could soon be a reality.

Below, we lay out the case and the progress that Amazon has made thus far.

TABLE OF CONTENTS
The 5 industries Amazon will disrupt in the next 5 years
The 5 industries Amazon will disrupt in the next 5 years

1. Pharmacies: Making drugs a low-margin commodity

Pharmacy chains like Walgreens and CVS have already seen their retail revenues suffer from the rise of Amazon's convenient "everything store." Today, they have a new challenge: in addition to disrupting their "front of the store," Amazon is angling to disrupt their core business of drug distribution.

Amazon's interest in disrupting the drugstore is decades old. In 1999, Amazon bought 40% of Drugstore.com (at the time, a pre-product and pre-revenue company). Bezos would later hire its CEO, Kal Raman, to run hardlines (retail products which are hard to the touch) at Amazon.

Amazon proceeded to lay low in the pharma space until 2016 when Amazon reportedly received its first licenses to sell pharmaceutical products and drugs from various state boards across the United States.

In 2018, Amazon made another move towards gaining a footing in this notoriously complex and highly regulated space: it acquired PillPack in a deal worth around $750M.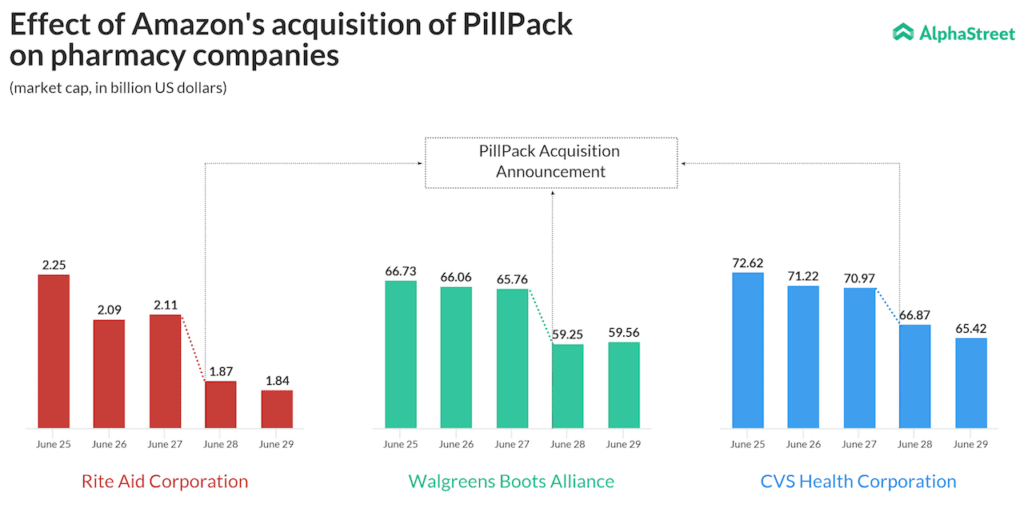 Source: AlphaStreet
The PillPack purchase was Amazon's first significant move not just against the major drug store chains, but against the powerful pharmacy benefit managers (PBMs) that manage the dispensation of drugs for major employers, and others in the healthcare supply chain.

Amazon's acquisition of a business with pharmacy licenses in all 50 states caused the tickers of Walgreens, CVS, and Rite-Aid to lose about $11B in value overnight.

However, the Covid-19 pandemic has increased the need for streamlined medication delivery and ramped up the competition between large drug stores and Amazon in the short term.

Though Amazon has an advantage in its logistics and delivery capabilities, it may need to speed up its pharma initiatives before existing pharmacies and pharmaceutical companies catch up.

WHY AMAZON IS GOING AFTER PHARMA

When it comes to pharmaceuticals, there are several reasons that Amazon — and its direct-to-consumer model — could be a good fit in the industry....
....MUCH MORE
Related, June 2019:
The 637 Industries Amazon Could Disrupt Next (AMZN)