Following up on yesterday's "Apple targets car production by 2024 and eyes 'next level' battery technology" (AAPL".
From ZeroHedge:
As Tesla Tanks, Here's What Analysts Are Saying About Apple's Move Into EVs
Late in the trading day on Monday it broke that Apple was "moving forward" with plans for a self-driving vehicle under its "Project Titan" project, which had been rumored to have slowed down - if not totally shelved - over the last year or two. In addition to designing self-driving vehicles, Reuters reported that Apple's cars could "include its own breakthrough battery technology".

Apple shares are trading higher by over $3 today, propelled by the news, and TSLA shares are plunging almost 5%...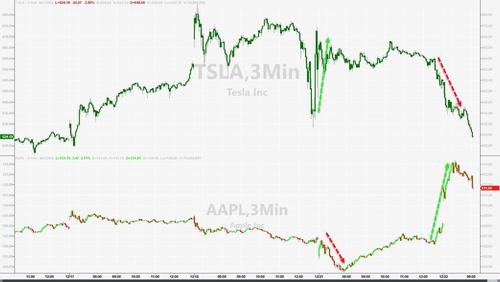 Now, analysts have started to weigh in with their opinions of what the news could mean. According to Bloomberg on Tuesday morning, analysts believe Apple "has what it takes to be a major force" in EVs. Here's some other comments from analysts in the industry.

Adam Jonas at Morgan Stanley kept his overweight ratings on both Apple and Tesla and said that Apple could provide "far more formidable competition than the established/legacy carmakers". He also said "Apple has ingredients to be successful in future auto industry: access to capital and talent, proven hardware design and a rich ecosystem to leverage service revenue" and that the "value of services opportunity in internet-of-cars could dwarf auto business itself".

Evercore ISI's Amit Daryanani rates Apple outperform but questioned why Apple would enter the "low-margin, capital-intensive field of auto production". Daryanani did not that Apple's "software/electronics background would make it ideal partner for an automaker" and that "if Apple has achieved a breakthrough it may be driver to finally hit production, since battery costs are among principal obstacles to mass electric vehicle adoption".....
....MORE