First up, ZeroHedge with the news (and the rhymey part of the headline):
The fact that potential investors were even taking meetings with the WeWork management team is a sign of just how few suitable takeover opportunities remain in a market that has been saturated by SPACs (following a decade-plus post-crisis bull run where rock-bottom interest rates and oodles of free money ensured that VCs and private equity titans like Apollo have already picked the bones). But now the troubled office-space rental company, which has been shouting into the void about a management-led turnaround strategy, has just offered some more details into just how desperate SPAC management is to close a deal.

Just look at how many SPACs have launched over the past 16 months. And the average deal size has increased since the start of the year..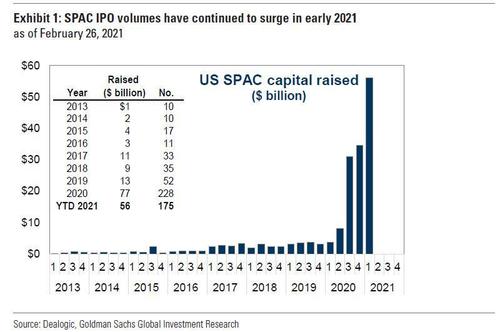 ...as SPACs increasingly seek to merger with larger targets.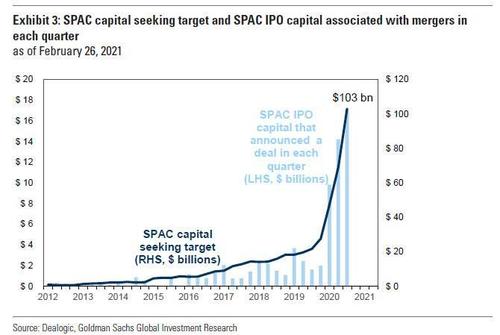 We first heard that WeWork management was looking to try and hitch a ride on the SPAC boom (incidentally, the news hit around the same time that SoftBank reportedly was considering launching its "Vision Fund 2" as a SPAC) last fall. Then in January, it was reported that the company was in talks with not one, but several, teams of potential suitors.

Well, fast forward a couple of months, and those eager suitors have apparently gotten a peak at WeWork's finances, and they're about as bad as can be expected. According to the FT, the company lost $3.2 billion last year, which ironically was an improvement over the prior (non-COVID-plagued) year 2019. Still, WeWork is pitching for $1 billion in new investment along with the stock-market listing that has long eluded it (as a reminder, the IPO was shelved in 2019 after the company saw its private valuation slide from nearly $50 billion to less than $10 billion in a matter of weeks).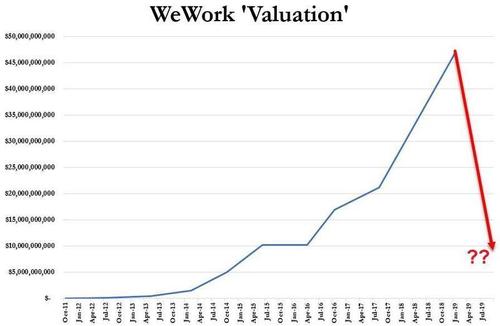 In one encouraging sign, the improvement in WeWork's losses during the plague year resulted from the company slashing operating expenses from $2.2 billion to just $49MM. However, we're not certain how encouraging that number actually is, considering that WeWork would almost certainly need to ramp up spending once clients start returning to its offices. According to the company's "Project Windmill", WeWork is hoping to go public at a valuation of $9BN....
....MUCH MORE

And from Esquire a look at the "Happy Time", January 2018:
Welcome to WeWork, the eight-year-old, $20 billion "shared space" nerve center of the New New Economy—in which the corporate ladder has been replaced by a rent-a-desk, the benefits package consists of free WiFi and La Colombe, and the retirement plan is IPO or bust. But hey, at least there's no one to boss you around anymore, right? Eric Konigsberg clocks in to find out just what the hell people actually do there all day.

MONDAY MORNING.


A new day, a new week, a new opportunity to master your destiny, to bite the ass off a bear, to be a coffee achiever, to hustle harder, to get shit done.

Brendan Alper's out the door by 8:41 a.m. He swipes his office key card just before 9:00 and steps onto the poured-concrete floor of the lobby, where the tableau that greets him is composed of beadboard paneling, hanging globe-shaped light fixtures, exposed pipes, a midcentury patchwork sectional sofa, banquettes for laptop rovers, a granite coffee bar (with La Colombe brew in the urns, Ronnybrook dairy products arranged neatly in a refrigerator, and bottles of sriracha sauce), a second bar with taps (Sierra Nevada, Angry Orchard), a large glass watercooler lined with grapefruit slices, an accent wall with a mural of a starry sky and mysterious hands plying a cat's cradle, and another wall festooned with a neon word sculpture. hello brooklyn, it reads. You might recognize in these touches the zippered-hoodie aesthetics of WeWork, the company that operates the building. You might even be a WeWork tenant yourself. Perhaps you've taken a meeting or two in a WeWork building, or else you will soon enough, as twenty-first-century America continues its headlong shift toward the gig economy.




Finally, Brendan gets to his pod-enclosed desk on the fifth floor, ready for some TCB: Taking Care of Business. Brendan is thirty and the founder of a tech company. He is bright, cheerfully handsome, well-related, well-connected, an alumnus of Brown University and Goldman Sachs, where he did operational risk management, which he concedes was "not exactly a crushing-it kind of job." One day a couple years ago, Brendan looked at his bosses and saw his future self: "charting numbers under fluorescent light, two kids at home, counting vacation days, and at what cost?" He quit and tried writing comedy sketches but found it too solitary, plus he didn't want to move to L.A.

Last year, Brendan scraped together his life savings and started a dating app called Hater. It adds value, as the Shark Tankers say, by matching people according to their shared dislikes. He finished the beta and timed Hater's February 2017 launch in the App Store to coincide with some canny PR stunts—coverage on The View, Good Morning America, CBS's Sunday Morning, and Fox & Friends; features on seven blogs embargoed for the same day; a viral public- art installation depicting Trump and Putin nude and locked in an embrace. Within three weeks, he had three hundred thousand registered users worldwide. Then, per an agreement he reached with potential investors, Hater received a market valuation of $4 million, even though the company had yet to bring in a cent....
*****

...."I've never actually met anyone on Tinder," Brendan says. "But I do waste a ton of time online answering questions from strangers, and it's fun. I like getting a lot of matches and 'likes.' It feels like having fans, like pretending I'm famous." And maybe he will be. He's working with a production company to develop a reality-TV show set in the Hater office. He has calls with lawyers about trademarking Hater's logo (an upside-down heart), a visit to his funders in Sweden, and a promotional event hosted by the rival dating site Bumble. Over the summer, Brendan taped an episode of Shark Tank, and by the time you read this, Cuban himself will have agreed to put up $200,000 for a chunk of Hater equity. (He also signed up for the app.) Brendan's especially excited about a TEDx Talk he's been asked to deliver in Switzerland. The theme? "Destination Tomorrow."... .
And, as they used to say as the lions approached the wildebeest on the old-timey British nature shows: