From futures 2.1660 down 0.0520.
We do not recommend initiating positions within 24 hours of the Thursday storage reports unless you a) are a good guesser as to what the number will be
and
b) (and possibly more importantly) you can guess how the crowd will react to said number.
It's the old Keynesian beauty contest paradigm.
Back in the day it used to be easier, when you just needed to know the temperature outside the NYMEX and whether the traders felt chilly running in the door.
From
Inside Futures
:
Below is a daily December natural gas chart showing planetary angle lines. I used a price per degree of .0082. Saturn is support at 2.366. Neptune crosses at 2.855 and is resistance. Uranus crosses at3.233 and is resistance. The lower Jupiter crosses at 2.193 and is target.
Ooops, wrong chart, that's from the Age of Aquarius slide deck
.
*
Let's try again.
From Inside Futures
, Tuesday, August 20, 2019
:
Natural Gas (NG) Nearing Daily Chart Descending Wedge Resistance
Natural Gas (NG) edged higher yesterday, but can be expected to hesitate going into Thursday's highly anticipated weekly storage data at 1030am EST. Significantly, longer term bullish momentum is gaining as seen by the compelling follow through this week following last week's completion of the Bullish Island Reversal...MORE
As noted in a late July post commercial users of natural gas are as long futures as Iwe've seen in years:
...Coming up next, "How many noodles make a spaghetti graph unreadable?"
Just kidding, the one above is clear enough to follow the lines, more like this El Niño Southern Oscillation forecast from IRI/Columbia: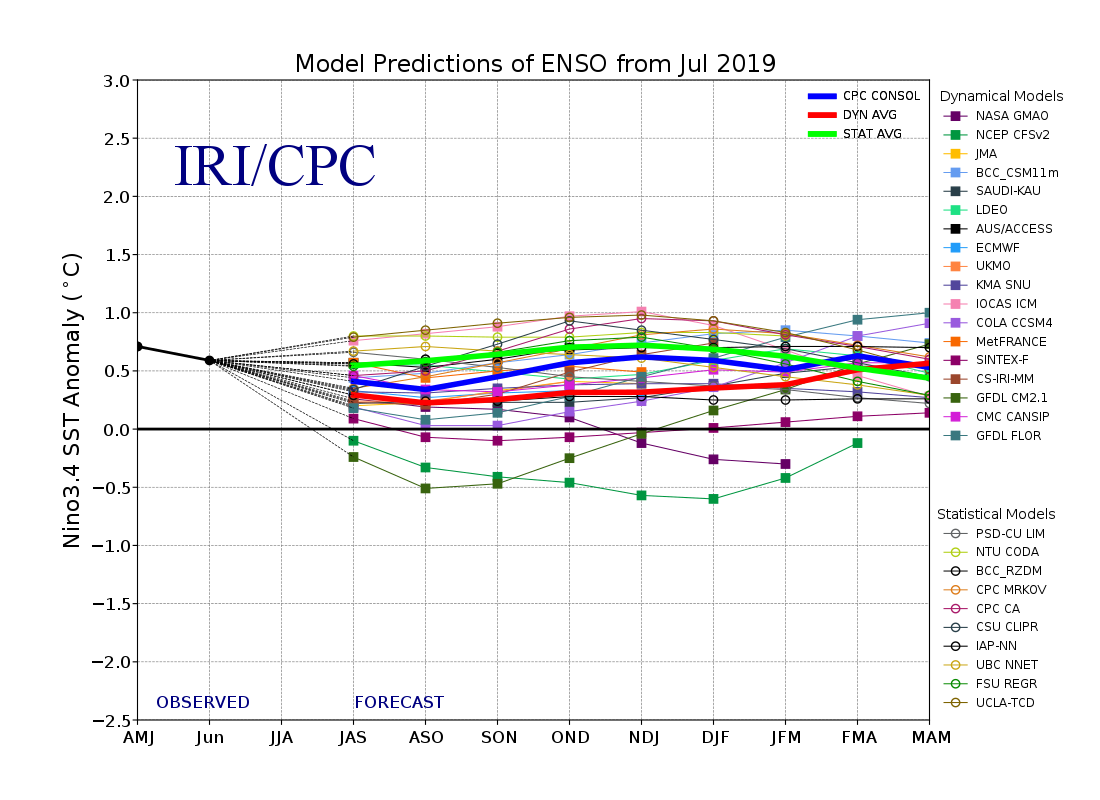 Although even here if you use enough distinct colors you can get the message.
And fortunately enough, the message one wants to be aware of is one of the outlier projections, NOAA's CFSv2, the green line under the zero degree anomaly.
If that model run comes to pass we are looking at a full blown La Niña.
Which would explain why the commercials are getting long natural gas futures.
*
Lest we scoff too much at the astrotechnicians, let us recall that, according to Hulbert, the most accurate market forecaster in 2008 was Arch Crawfiord:
Investing: "Throwing Out the Rule Book" (The best Performing Investment Letter is by an Astrologer)
Related
"Fake Astrology-Based Hedge Fund Threatens To Ruin Things For All The Legit Astrology-Based Hedge Funds Out There "
"S.E.C. Charges Psychic With Securities Fraud"
(no, it wasn't Arch)
What the #1 Investment Newsletter is Saying Now
Of Bulls, Bears and Rallies
Is The Financial Crisis Making You Psychic?
J.P. Morgan's astrologer was Evangeline Adams
.