S&P 500 index
2,809.89
up 17.22 (+0.62%)
As StockCats said:
"if you compare the current environment to the South Sea Bubble of 1720, stocks still look attractive from a valuation standpoint"

— StockCats (@StockCats) August 9, 2016
Oops, wrong tweet, here's the one we linked to on December 7 (still 2 1/2 weeks before the Christmas Eve bottom):
Chartology: Well It Does Have A Sort Of Symmetry
and red/green Christmas-y!
From
StockCats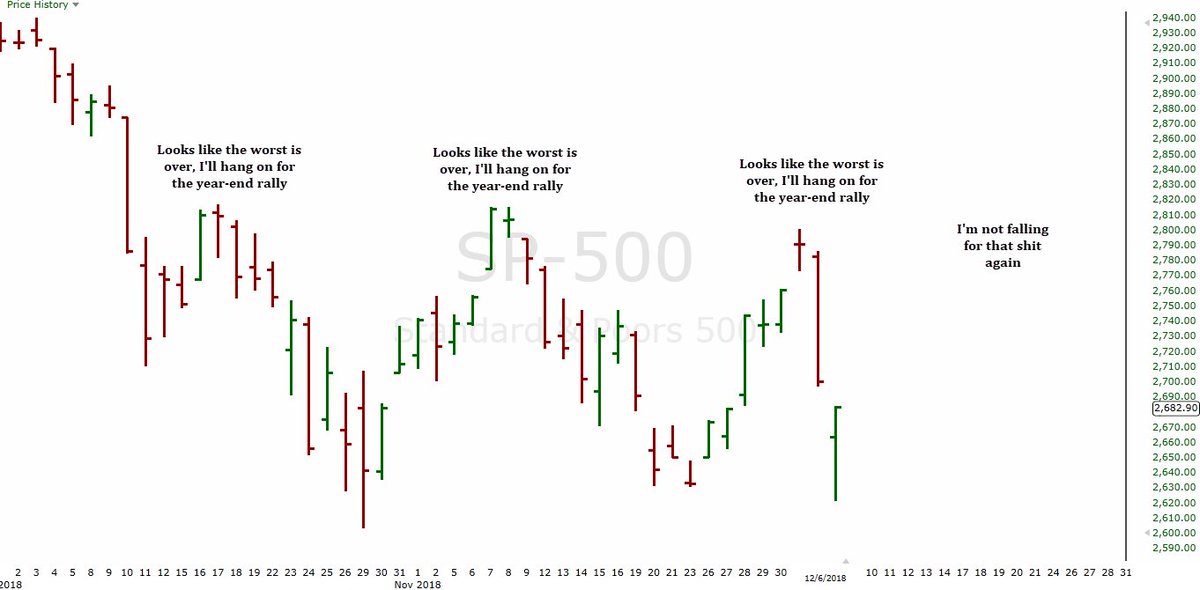 And here he is last week:
February 19, 2019
It appears the resistance must be overcome, their fields salted so nothing grows for one thousand years.
To crush your enemies, see them driven before you,
and to hear the lamentation of their women!
-Conan the Barbarian, 1982
Or something.
As we've been babbling for a couple years we were in agreement with Jeremy Grantham when he, in a fit of (for him) uncharacteristic bullishness suggested a target of 3000 on the S&P.
And as noted when the October - December decline was really gaining momentum:
Sunday, Dec. 2
2:21pm
Yuan Surges In Early Trading, Signals 2800 Open For The S&P
We cautiously caution, be cautious.
The real action in equities, and probable all time highs for the indices will come in the first quarter of 2019....
and 40 minutes later
Sunday, Dec. 2
3:01 PM
Trade Talks: Grains and Beans
More chance of an extended move here, over the next few weeks, here than in equities, see after the jump....
Repeated in December 4's "
Markets: What Triggered the Latest Whack
":
At least I have my soybeans....
DJIA down 602.39 (-2.33%) at 25,224.04
S&P 500 down 66.00 (2.37%) at 2,724.37...
Followed a few days later by:
December 7, 2018
"Fed's QE Unwind Reaches $374 Billion"
...As it turned out the Board directed the New York Fed's Open Market Desk to begin the roll-off operations in October 2017 rather than December but because we had marked our calendars and we dramatically scaled back our equity rah-rah which allowed a semi-sanguine view of, first the February, and then October-December volatility.

We're still looking for equities to set their ultimate highs for this go-round somewhere above 3000 on the S&P but fully aware this transition by the Fed is a definite headwind and uncharted territory for pundits and participants and pundit-participants....
...And readers, we meant every word of last Sunday's pair of posts after the G20 news but before Monday's big gap open:...
Which itself was followed by the whole Santa is coming schtick
Dec. 20
Hulbert: "Santa Claus is coming to Wall Street — after Christmas"
This piece was published ~45 hours—i.e. ~1000 DJIA points—ago. Some say Santa has left the building or, even worse, that there is no Santa but that question was answered, in the affirmative, by the New York Sun long ago (1897):...
Dec. 26
Equities: Thank You Santa
I received the options on the S&P futures and I have to say, earlier this morning I thought XXL was far too big
And on top of that I was a bit nervous about having gone public with December 20's Hulbert: "Santa Claus is coming to Wall Street — after Christmas", reiterated as the first sentence in Dec. 23's Equities: "Nothing Goes to Hell in a Straight Line, Not Even Stocks".
If you hadn't come through all those young people on the internet might have lost faith and stopped believing,
But you delivered Santa, you did!
Right down to the minute!....
So yes, here we are again.
And I've got five weeks for that "
probable all time highs for the indices will come in the first quarter of 2019.... "
to pan out.