From the San Francisco Chronicle, April 27:
A law that requires public companies to disclose the median pay of their employees and compare it with their CEO's compensation is producing some eye-popping numbers that spotlight income inequality in America.

Among the 40 largest Bay Area companies that have reported, median employee pay last year ranged from $5,375 at Gap to $240,430 at Facebook.

The median is the midpoint at which half of workers make more and half make less. Gap said its median-paid employee, a real person, was a part-time sales associate in Alabama who worked a partial year and whose pay was not annualized. If you were instead to compare senior software engineers at Facebook and Gap, their pay disparity would be much less startling. But that's not what the law requires.



The CEO-to-worker pay ratios at these two companies were also extreme.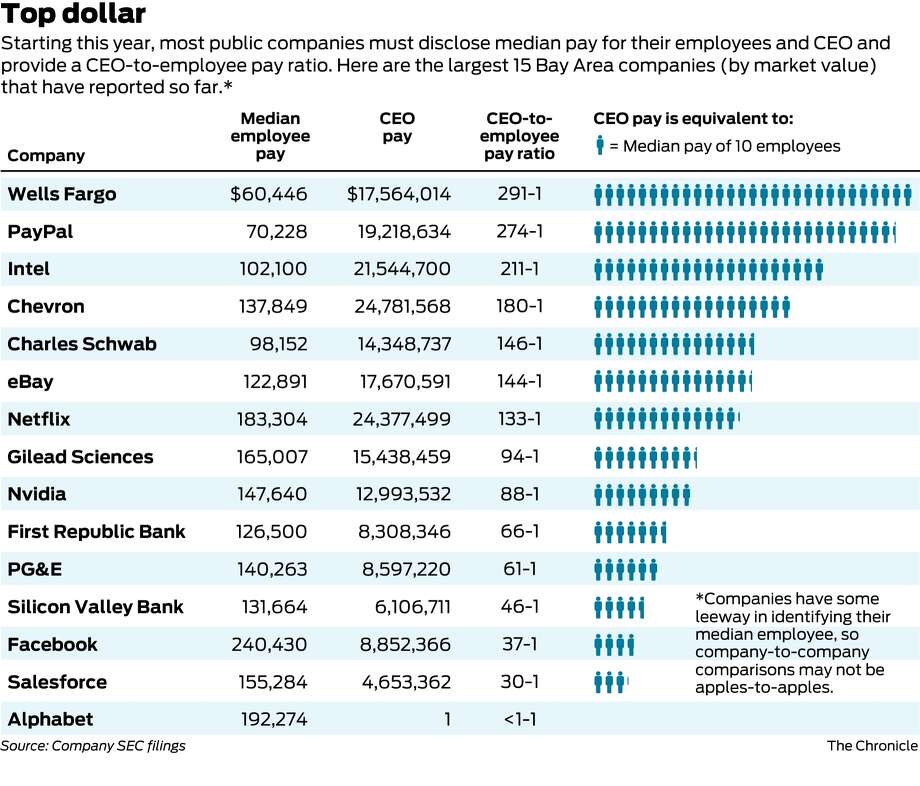 Gap CEO Arthur Peck took home $15.6 million, or 2,900 times more than the median employee.
Facebook founder and CEO Mark Zuckerberg made 32 times what the median Facebook worker earned. Zuckerberg took a $1 salary last year and got no new stock grants (on top of the $70 billion in Facebook stock he already owns). His $8.8 million in compensation last year was mainly for his personal security detail and private aircraft use.

Google parent Alphabet said its median employee made $197,274 last year; its CEO and co-founder Larry Page took home his usual $1, producing a pay ratio near zero....

MUCH MORE