I am in awe of the folks at Reason Magazine. In "
Don't Argue Choo-choos With Reason: PolitiFact Gets High-Speed Rail Facts in Florida Wrong
" I said:
This is as devastating a critique of a critique as I've ever seen.
If I was to take these guys on I would make sure I knew as much as they did and back it up with a tactical nuclear device....
They basically show that in just about every case the proponents of high speed rail flat out lie to get their way.
And now the news.
From KNTV (NBC):
High-Speed Rail Cost Triples to $100 Billion
Thirteen Years Late, And $66 Billion More Expensive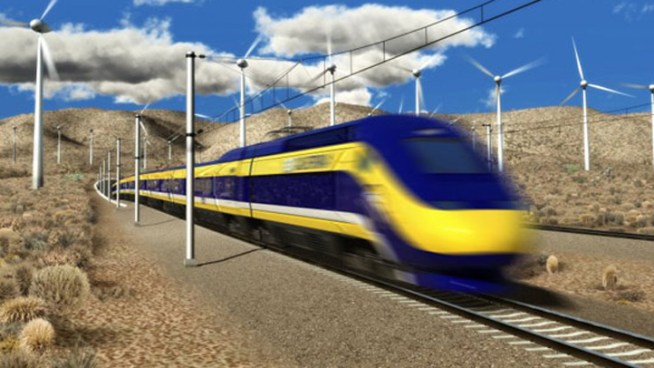 Thirteen years late, and three times as costly.
The first stations have yet to be built and the first track has yet to be put down, but California's ambitious high-speed rail project is already running less smoothly than predicted.




The much-ballyhooed bullet train -- that, voters were promised in 2008, would cost $33.6 billion and begin ferrying passengers between Los Angeles and San Francisco in the matter of mere hours -- will now cost $98.5 billion, a business plan unveiled Monday revealed, and will not begin operations until 2033 at the earliest, instead of 2020, which was also promised in the bond measure voters approved in 2008.




Officials from the high-speed rail authority did not respond to requests for comment,

according to the San Jose Mercury News

, which was leaked a copy of the business plan on Monday. State legislators, some of whom are no friends to the project -- including representatives from districts through which the train will move without stopping -- may move to kill the project, the newspaper reported....

MORE
From Transportation Nation:
California's High Speed Rail Costs Soar, But Proponents Say There's "No Choice" But To Build
The California High Speed Rail Authority released a new business plan today outlining a multi-phase strategy for bringing bullet trains to the state. The total pricetag? $98.5 billion. That's almost three times the original estimate made in 2008 when voters approved a $9 billion bond measure in support of the project that ultimately would link San Francisco with Los Angeles.

In a state already infamous for snarled traffic, and where the population is projected to increase from 38 million to 60 million people by the middle of the century, improving transportation infrastructure and moving all those people around is a real concern.

"We don't have many choices," said Thomas Umberg, Chairman of the HS Rail Authority. "We can do nothing and bury our heads in the sand. We can build more freeways and airports. Or we can do something visionary that transforms California's transportation infrastructure."

Part of that vision comes in the plan's "phased implementation," in which High Speed Rail is developed, constructed, and funded in segments. "If we have to pause, we'll pause," said Umberg.

There is currently approximately $6 billion in funding from the federal government and from bonds approved by California voters in Proposition 1A to pay for the first phase—130 miles of track to be laid between Fresno and Bakersfield—the heart of California's Central Valley.

The federal money comes with deadlines and strings attached: if the federal funds aren't used by 2017, the state loses the money, said HS Rail spokesperson, Rachel Wall. In order to meet that deadline, construction on the rail lines in the Central Valley are slated to begin in October 2012. In addition, the federal funds mandate that construction begin in the Central Valley, far from major metropolitan population centers.

After that, where the additional $92.5 billion in projected costs will come from remains unclear. The second phase of the project, which would link the new Central Valley track to existing transportation systems in either Northern or Southern California, is projected to cost around $31 billion....MORE
The wind turbines in the High Speed Rail Authority's promo piece are a nice touch.
Governor Brown's
Budget Forecast
for the current fiscal year calls for total revenue of $85.704 Billion.
Good luck to the Golden State.