With the big GDP print, 6.9%, oil and oil exploration are up, .53% for WTI futures and 2.3% for the SPDR S&P Oil & Gas Exploration & Production ETF (XOP) which tends to be more volatile than the XLO, the oil majors in the S&P.
So oil is acting like we have a booming economy that is going to last.
On the other hand, gold and silver are both down, 1.30% and 3.68% respectively, acting as if the coming rate hikes are going to quash inflation and the boom.
From Bloomberg, a pitch for oil stocks via ZeroHedge:
Wednesday, Jan 26, 2022 - 01:45 PM

Oil Could Be The Haven Stocks Traders Need To Shelter From Fed
By Nour Al Ali, Bloomberg Markets Live commentator and analyst

Oil is starting to look like an unlikely haven from the stocks selloff in the run-up to anticipated Fed tightening.

Traders are pricing lower volatility in the commodity than in the Nasdaq and S&P 500. Barometers of market anxiety for both indexes have shot up recently, suggesting trader sentiment is souring. Meanwhile, the CBOE Crude Oil Volatility Index, which measures the market's expectation of 30-day volatility of crude oil prices applying the VIX methodology to USO options, shows that oil prices are expected to remain relatively muted in comparison.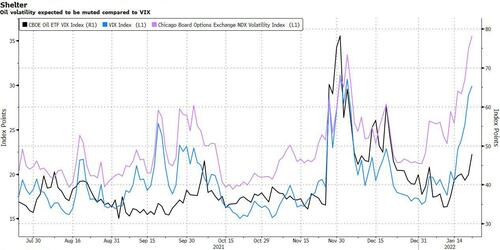 With a producer cartel to support prices, the outlook for oil is more sanguine, even if the Fed raises rates. The commodity has ample support, with global oil demand expected to reach pre-pandemic levels by the end of this year. The U.S. administration has been pushing oil-producing nations under the OPEC+ cartel to ramp up output, while the group has stuck to a modest production-increase plan and is expected to rubber-stamp another 400k b/d output hike when they meet next week. This means that oil is likely to stay a lot more stable than in recent years....
....MORE

Recently:
If interested in more on our recent thinking re: oil see:
The Lack Of Prospects For ESG (at the moment)
Platts' "Commodity Tracker: 5 charts to watch this week"

ECB: "Looking through higher energy prices? Monetary policy and the green transition"
....She pretty much lays it all out right there. As with European carbon, it appears that we have an upwardly moving market price created by rules and regs. If the above doesn't communicate what has been decided let's try....