From ZeroHedge:
Update (1130ET): Dip-buyers charged in to buy oil after an initial dip following DOE's report of a surprise crude inventory build.

WTI is up near $88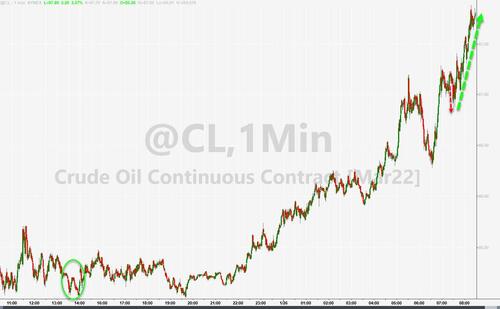 And Brent broke above $90...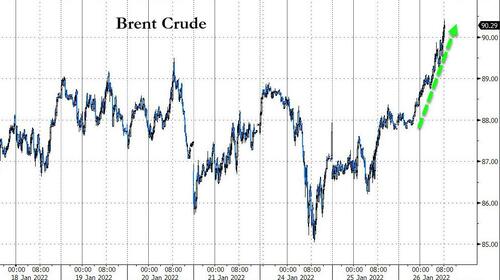 That is the first time Brent is above $90 since October 2014...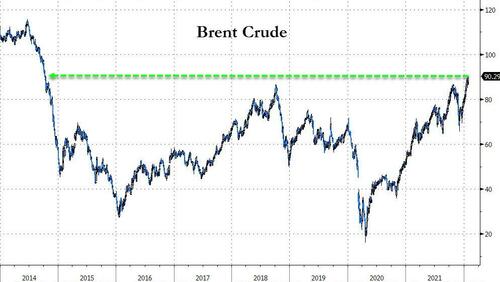 A string of Wall Street banks including Goldman Sachs have forecast oil will hit $100 a barrel this year as the global market tightens.

"The market has basically been in persistent undersupply since mid-2020, thanks to OPEC+ cuts and a continued oil demand recovery," said Helge Andre Martinsen, a senior oil analyst at DNB ASA.

"We fully acknowledge that the world is not running out of oil resources, but we might enter an oil-market squeeze triggered by too little investment and oil demand rebounding quickly."

Prices are also moving on mounting concern over a possible Russian incursion into Ukraine, with President Biden saying he'd consider sanctioning Vladimir Putin if the Russian leader orders an invasion....
....MUCH MORE
As always, thank you to ZH for the green arrows, a great assist for the directionally challenged.
If interested in more on our recent thinking re: oil see:
The Lack Of Prospects For ESG (at the moment)
Platts' "Commodity Tracker: 5 charts to watch this week"

ECB: "Looking through higher energy prices? Monetary policy and the green transition"
....She pretty much lays it all out right there. As with European carbon, it appears that we have an upwardly moving market price created by rules and regs. If the above doesn't communicate what has been decided let's try....