Comment of Admiral Beatty to his Flag Captain at the battle of Jutland after HMS Queen Mary blew up, 31 May 1916. It was the second of his ships to be destroyed in 25 minutes:
16:00 hrs-16:05 hrs, Indefatigable explodes leaving two survivors.
16:25 hrs, Queen Mary disintegrates, twenty survive.
2200 of his sailors vaporized.
Admiral Beatty was a bit of a dimwit so he was, of course, promoted, appointed First Sea Lord and granted an Earldom.
Things aren't quite that bad in the markets: DJIA down 756.37 (-2.21%) at 33,509.00; S&P500 down 121.36 (-2.76%) at 4,276.58; Nasdaq Composite down 443.53 (-3.22%) at 13,325.39 and showing some relative strength the Russel 2000 small caps down 44.17 (-2.22%) at 1,943.75.
From ZeroHedge:
Monday, Jan 24, 2022 - 10:02 AM

Capitulation Bloodbath: Stocks Crash After Most Negative Opening TICK Of 2022, Russell Enters Bear Market As VIX Explodes
It's official: as of this morning, the S&P is in a correction, having tumbled 10% from its all time high recorded at the start of the month...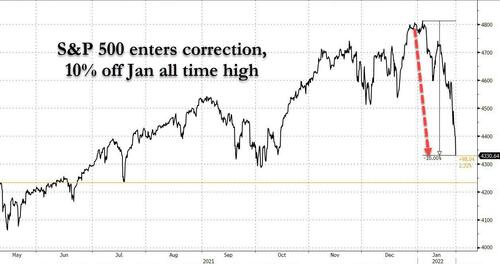 ... with the Russell suffering an even more humiliating fate, as it entered a bear market at roughly the same time, tumbling 20% from its early November all time high.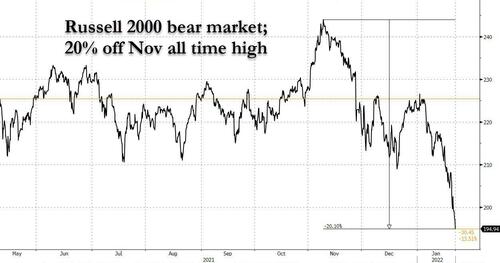 The opening puke was precipitated by a marketwide flush, manifesting in the most negative opening TICK in a year at -1,897...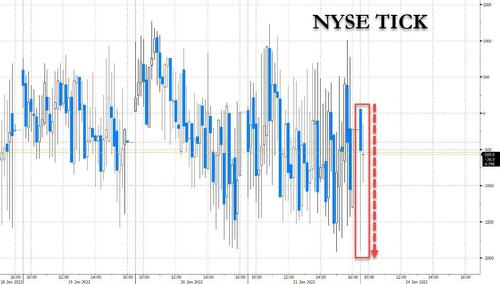 ... which was also the 2nd most negative TICK of 2022 as everyone hit the sell button at the same time.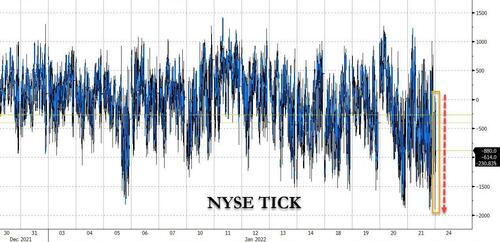 And as stocks (and cryptos) crash, and yields tumble, the VIX is exploding above 35, the highest since Jan 2021, and the level which DataTrek said would likely mark the bottom in sentiment.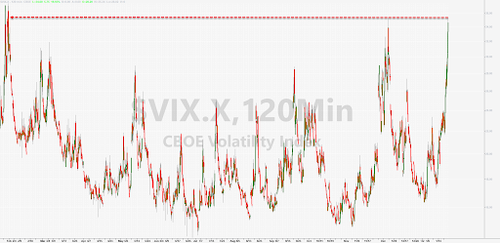 Commenting on today's market technicals, SpotGamma writes that Fridays expiration leads to a reduction in gamma, but we still anticipate high volatility for today. Resistance is at 4400 followed by 4453. Support lies at 4356 and 4330. We are now clearly below both supports.

As SG warns, "This is a very fragile, unstable market which is likely prone to large, directional swings" and continues....
....MUCH MORE