The various futures at this moment:
From ZeroHedge:
By Mark Orsley, head of Macro Strategy at PrismFP

Costanza in November - markets are going into major event risk full of reflation hopes

Technical indicators are flashing warning signals that new good news is needed to avert a sharp correction

What could be the drivers of a risk asset correction – yields rising reinvigorates our debt cycle talking point

Central banks will step in with updated purchase plans in December to stabilize rates market, risk assets – could mean substantial pain to the reflation trade in Nov. but setting up the opportunity to reengage in Dec.

Regular readers will know at year end we do a tongue in cheek, jab at street research in our year end "Costanza" piece. It is meant to push back at consensus and historically the Costanza trades has had a success ratio greater than 70%.

Today's piece is not supposed to be tongue in cheek but serve as a warning that the market is perhaps too consensus going into a fragile fundamental and technical period for the markets.

To put it succinctly, the market is in a precarious position where the slightest rate of change bad news could mean a substantial correction for reflation. In other words, there better be some good news QUICK.

We hope you have seen that we have been an early call on reflation, both asset price and economic, coming out of the initial COVID scare. We now view that narrative that we have held for many months as too consensus into event risks which could temporarily derail reflation.

The "precarious position" starts with positioning where market participants are fully bought into one or more of the following ideas:

The "blue wave" is reflationary

There was fiscal failure, but it will come eventually

Vaccine news can only be positive

COVID is Europe's problem

The strong economic rebound in the US coming out of the spring will continue unabated

Thus, the market has piled into reflation trades and continue to hold them, in some cases to historic extremes:

VIX Spec positioning / Aggregate Open Interest – short equity vol is near 10yr extremes...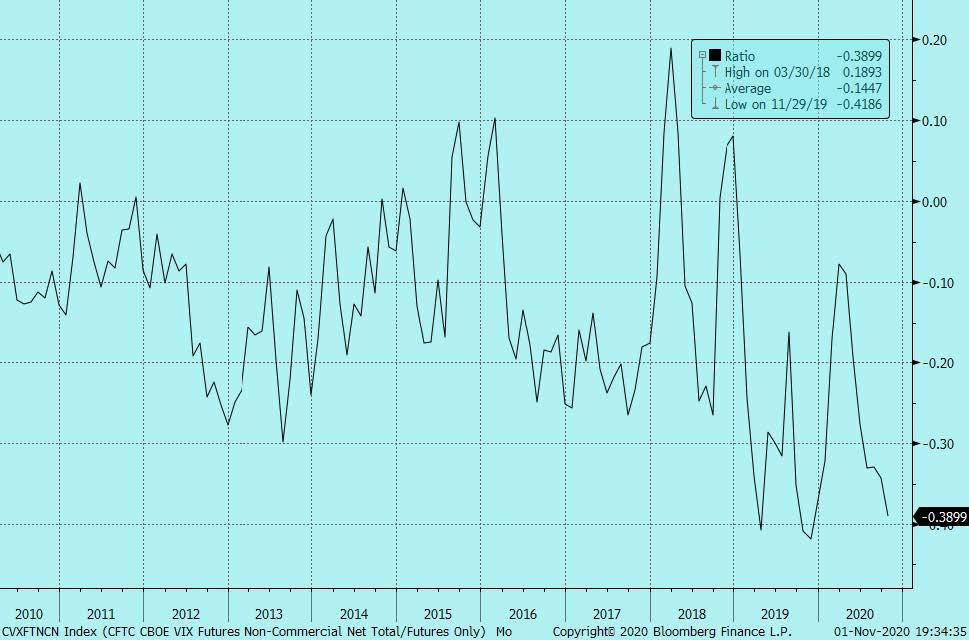 In similar vein, S&P "spec" positioning is going into November's fragile period at 1yr highs for longs and building…
MUCH MORE