It's all anyone can talk about.
From Wolf Street, November 16:
All Container Heck Breaks Loose amid Flood of Orders from US Retailers to Supply Stimulus-Stuffed Consumers, Cancelled Sailings by Carriers, and Record Spiking Freight Rates
While US Farmers Struggle to Find Empty Containers for Exports
The freight rates that container carriers charge for shipping containers from Shanghai to the US West Coast has exploded to a new record of $3,871 per 20-foot-equivalent unit (TEU) in the week ended November 13, and to $4,676 per TEU to the US East Coast, according to the Shanghai Containerized Freight Index (SCFI), which tracks the spot rates of shipping containers from Shanghai on 13 major shipping routes. The index includes ocean freight rates and seaborne surcharges.

The SCFI for all 13 routes jumped combined over 11% last week compared to the prior week, and by about 125% from a year ago (chart via Shanghai Shipping Exchange):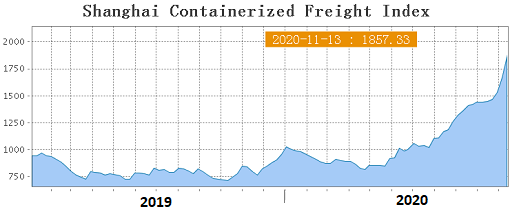 In dollar terms, US imports from China are not so hot.

China's exports to the US have recovered from the plunge during the lockdowns in China and in the US, powered by a tsunami of orders over the summer from US retailers that were trying to keep up with record retail sales, as stimulus-fed consumers caused sales of durable goods to spike in a historic manner. Retailers are hoping that even more of it will occur going into the holiday shopping season, and they're stocking up for it.

In September, US imports from China were up 2.6% from September 2019, though the remained down 17% from September 2018, down 9% from September 2017, down 2.5% from September 2016, etc. In fact, imports in September 2020, with the exception of last year, were the lowest for any September since 2013 in dollar terms: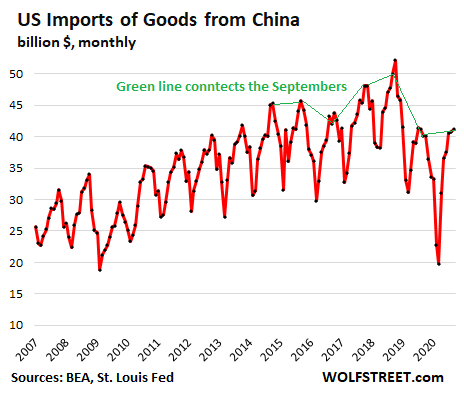 In container terms, all heck has broken loose.

The Port of Los Angeles reported that in September, imports of "loaded" containers (as opposed to "empty" containers, and we'll get to those in a moment) jumped 17% year-over-year, to 471,794 TEU, after having jumped 18% year-over-year in August, to 516,285 TEU. September and August represent the peak of shipping season. The combined total of those two months reached nearly 1 million TEU, the highest ever for a two-month period. Note the difference between the Financial Crisis and the stimulus-powered Pandemic:....
....MUCH MORE
Recently:
Shipping: "Containers are 'the new gold' amid 'black swan' box squeeze"
And a tidbit from Shipping: "China Makes Waves, Seeking To Control World Shipping":
...Another fresh study, by the Center for Strategic and International Studies, describes how Chinese companies function as "the maritime supply arm of the People's Liberation Army" and have built "the largest port and logistics company in the world." This includes producing 96% of the world's shipping containers and building over a third of the ocean-going cargo ships....