This has got to be hurting Chancellor Merkel, she and the little guy were close. See below for some early twenty-teens coverage.

From Reuters:
Former French president Nicolas Sarkozy goes on trial on Monday accused of trying to bribe a judge and of influence-peddling, one of several criminal investigations that threaten to cast an ignominious pall over his decades-long political career.

Prosecutors allege Sarkozy offered to secure a plum job in Monaco for judge Gilbert Azibert in return for confidential information about an inquiry into claims that Sarkozy had accepted illegal payments from L'Oreal heiress Liliane Bettencourt for his 2007 presidential campaign.

Sarkozy, who led France from 2007-2012 and has remained influential among conservatives, has denied any wrongdoing in all the investigations against him and fought vigorously to have the cases dismissed.

Investigators had from 2013 been wiretapping conversations between Sarkozy and his lawyer Thierry Herzog as they delved into allegations of Libyan financing in Sarkozy's 2007 campaign.

As they did, they learned that Sarkozy and his lawyer were communicating using mobile phones registered under false names. Sarkozy's phone was registered to a Paul Bismuth....
....MUCH MORE
So sad.
Merkozy Memories

We simply choose to forget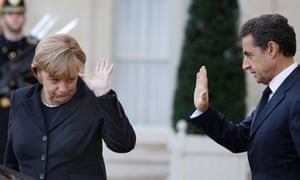 Mutti attempted to fly in to be by his side but when the customs agent asked "Occupation?" and she answered "Non, just a day trip" it all went downhill.
(I am so sorry and apologize to our German readers but there aren't many opportunities to tell this very old joke, it probably dates back to Adenauer and
de Gaulle and coach said when you see the shot, take it
)
As a possible peace offering here's a 2011 post that put the German on top:
Don't email, I know about Herr Professor Doktor Sauer and Carla Bruni, Just roll with me on this.
Europe has not been the same since the HRE folded its tent in 1806 after Napolean beat Francis II and forced him to abdicate on August 6.
Now 205 years to the day later....
I'm sorry, I can't continue.
The HR Emperor was the German top dog and that's not how I want to refer to Angela.
On the other hand as I mentioned in 2008's "
European Politicians Think They are Rulers; Need Energy Wasting Palace
":
..the EU rulers (alas, they think of themselves as rulers, not servants of the people) are masters of the "Camel's nose under the tent" school of government. They know that if they told the populace the truth they might be treated rougher than Louis XVI was.

When MEP's dream, are they Capetian or Carolingian?
Capetian, methinks.

I've always liked the Carolingians better,
they seemed more human-

Charles II, the Bald
Louis II, the Stammerer
Charles, the Fat
Charles III, the Simple
Along the lines of the Brit's Aethelred II, the Unready
(my fav. royal nickname)

Anyhoo, from the Economic Times (India):...
Sarkozy, as President of the Republic, is already co-Prince of Andorra, he could take on any of the Carolingian nicknames although he may shy away from the name of the founder of the dynasty, Pippen the Short.*
Here's the story that I blame for this ramble:
Sarkozy and Merkel Stress Commitment to Sweet Bailout Moves
PARIS—French President Nicolas Sarkozy and German Chancellor Angela Merkel moved to reassure jittery investors Sunday, reaffirming their commitment to measures recently agreed by European leaders to quell the euro-zone debt crisis as financial markets continued to bet that the region's debt woes could ensnare some of its largest economies.

In a joint statement, the leaders of the euro zone's two biggest economies stressed the importance of the French and German parliaments approving by the end of September the new measures aimed at boosting the scope of the euro zone's current rescue fund, together with a second bailout package for Greece.

The Franco-German statement came as finance ministers of the Group of Seven major industrialized nations planned to hold a telephone conference late Sunday, while the European Central Bank was holding a video emergency conference. Both were aimed at quelling the crisis surrounding the euro zone, which in recent days has increasingly engulfed Italy and Spain, the currency area's third- and fourth-biggest economies....MORE
Sweet wasn't in the WSJ version but my rather fevered brain kept inserting it and picturing the two of them dancing 'til dawn.
*See: "
How Nicolas Sarkozy can walk tall
"
And don't get me started on whether or not it would be a morganatic marriage.