Following on Feb. 17's "
Florida Man Conspires To Blow Up Target Stores To Crash Stock (TGT)
".
From Bloomberg:
Target Plunges Most in Eight Years
Target Corp. became a retail phenomenon -- and a stock market darling -- with a rare mix of hip products and bargain prices.

Whether the company can stick to that playbook is now in doubt.
Target stunned investors on Tuesday by abruptly announcing that it would move prices further down market, into the realm of its No. 1 rival, Wal-Mart Stores Inc., and accept lower profit margins as a result.

The news sent Target shares tumbling 12 percent, the most in more than eight years, and underscored the challenges confronting retailers caught between the twin juggernauts of American discount king Wal-Mart and online giant Amazon.com Inc.
Tuesday's move, coming after years of stagnant growth, represents a risk to Target's long-held objective of wooing more affluent shoppers -- an approach that won the company its faux French nickname, Tar-zhay. While cutting prices may draw more people in the door, it also may alienate consumers seeking a more upscale retail experience.

To hold onto those shoppers, Target will refurbish more than 600 stores and open about 100 smaller shops in cities and college campuses by 2019. It'll also introduce a dozen new store brands in areas like apparel and homegoods, trying to replicate the success it's had with labels like the Cat & Jack kids' fashion line.

Style Focus
Chief Executive Officer Brian Cornell sought to reassure investors that Target isn't abandoning the cheap chic formula that made it famous. Instead, Target will try to move away from the steep promotions it used to win back shoppers following its data breach in 2013 to focus on keeping prices low every day, Cornell told reporters Tuesday. The company still will prioritize delivering on the "style-side of the equation," he said.

"Our plan right now is to make sure we don't take our eyes off of the importance of quality, design and innovation in our stores and with our brands, but we also need to make sure we're continuing to deliver the value the guest is looking for," Cornell said. "We have to do both -- it's always going to be a challenge to keep the right balance in place."

Still, the judgment in the stock market was swift. Target's share price plunged the most since December 2008, even after Cornell's remarks.

'Better Path'
"We are stunned -- we thought they were going the other way, with higher-margin stuff," said Brandon Fletcher, an analyst at Sanford C. Bernstein & Co. "There is a better path, and we want to know why they stepped off into the wild."...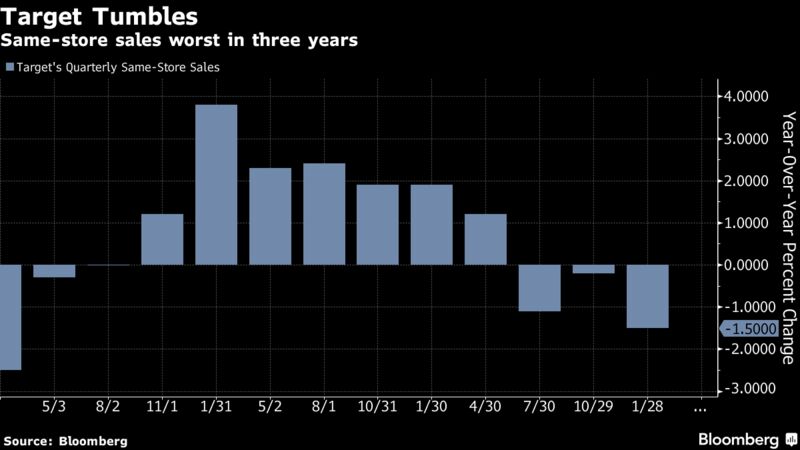 ....
MORE
$58.77 at the close Tuesday down $8.14 (12.17%)
We do have some Florida news:
— Florida Man (@_FloridaMan) February 10, 2017