From Aeon magazine:
How wealthy Americans grew to appreciate the French Impressionist painter – as an artist but also as a financial asset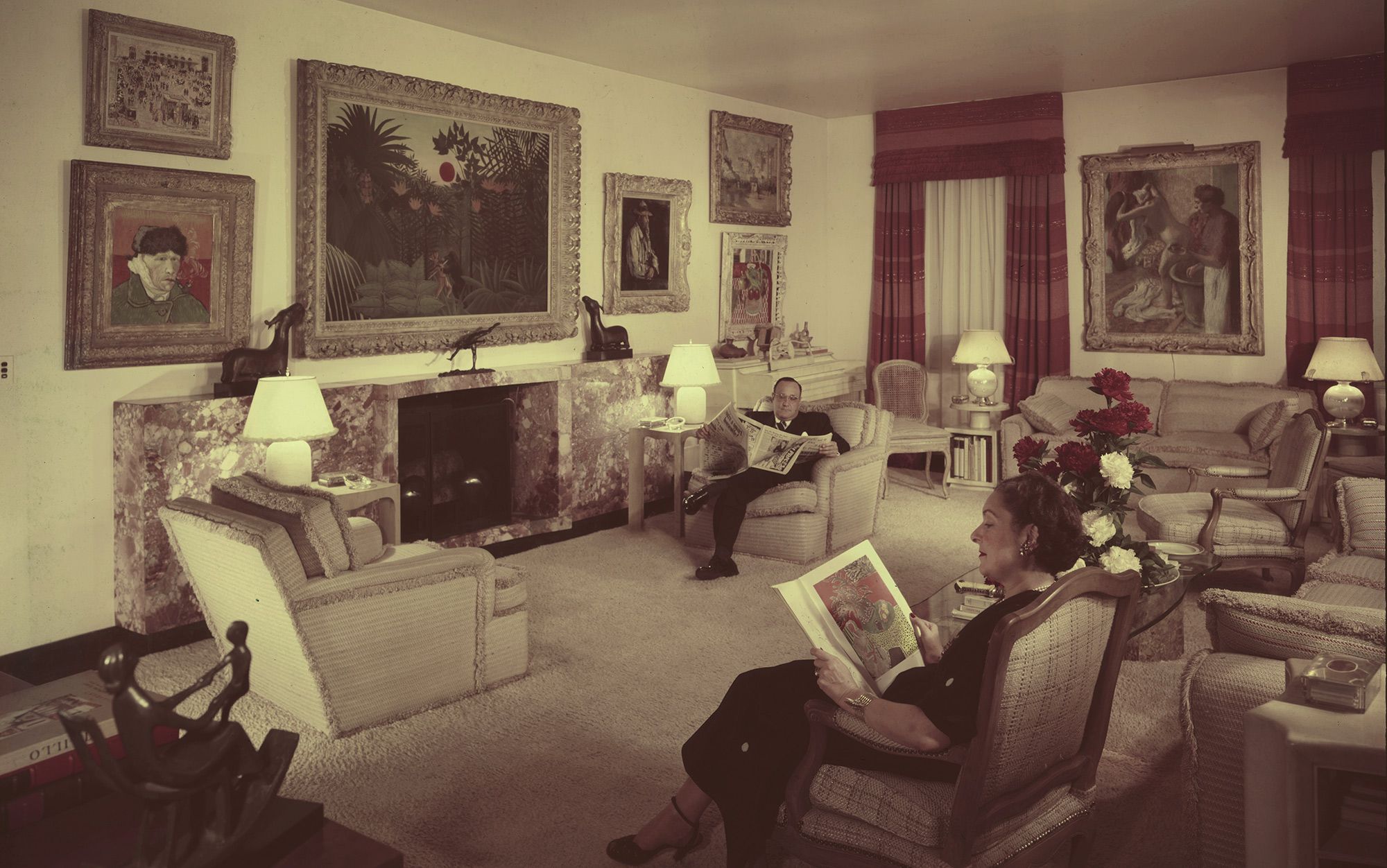 On 16 November 2016, the investment guru and philanthropist Tom Marsico, one of the wealthiest men in the United States, became a little bit richer: an auction at Christie's in New York sold Claude Monet's Grainstack for $81.4 million. The price, which broke the record for a Monet painting at auction, was more than six times what Marsico paid for it in 2002, proving that few investments offer a more buoyant rate of return than a Monet.

Star performances by Monet in the auction houses of London and New York have become routine. Yet the exorbitant prices paid for his paintings today don't stand in any kind of chastening counterpoint to Monet's commercial fortunes during his own lifetime. The stories of the critical resistance to Impressionism – and consequent financial hardships of the movement's painters – are, of course, the stuff of popular legend. To be sure, Monet did suffer some early hardships. 'We have enough of that kind of painting,' sniffed a juror in 1868, rejecting his works for the annual Paris Salon and thereby scuppering his chances of making sales.

That same year, Monet was (no doubt wisely) refused credit for paint, and he supposedly spent one entire winter eating nothing but potatoes. For much of his career, though, he was no starving artist, and the diet of potatoes soon came to be replaced by such favourites as foie gras from Alsace, truffles from Périgord, and lobster in peppercorn sauce. 'You get the best cuisine in France at his house,' enthused one visitor treated to the delights of gastronomy chez Monet.

The fact is that, after the age of 50 (he lived to be 86), Monet was unrelentingly flush with cash: a happy outcome for such a bon vivant. His wealth kept him in a fleet of automobiles, tweed suits from a fine English tailor in Paris, and a sizeable staff of gardeners to tend his famous gardens. In this respect, he has more in common with Damien Hirst or Jeff Koons, with their high-octane dealers, deep-pocketed collectors, and multimillion-dollar fortunes, than he does with artistic outliers such as the penniless Vincent van Gogh. His surname is an apt one, as headline writers and other punsters appreciate, enjoying its near-homonymity with 'money'. He was, in fact, the Jazz Age's answer to Koons, because in 1922, four years before his death, the sale of one of his canvases to a Japanese tycoon made him the world's most expensive living artist.



M

onet has long been the go-to artist for the rich and famous. Besides Marsico, recent owners have included David Rockefeller, the Queen Mother, Imelda Marcos, Prince Rainier, the hotelier Steve Wynn, and assorted Russian and Asian billionaires. Proclaiming both aesthetic taste and financial muscle, his canvases are dazzling consumer goods that are also lucrative financial assets.
Monet's paintings functioned in much the same way during his own lifetime – as trophies that graced the collections of an equally formidable international roster: the Turkish-born financier Isaac de Camondo, the margarine king Auguste Pellerin, the Japanese industrialist Kojiro Matsukata, the Russian textile merchant Sergei Shchukin, and the Azerbaijani oil magnate Jacques Zoubaloff. However, many of Monet's earliest and most reliable purchasers were American, so much so that as early as 1888 a French critic accused him of creating works 'geared to New York taste'. Discerning Gilded Age plutocrats (often compelled by their even more discerning wives) showed the same indomitable acumen in putting together their art collections as they did in amassing their dizzying fortunes in railroads or lumber. By the 1890s, few of them could visit Paris without touring the galleries of Georges Petit or Paul Durand-Ruel – Monet's tireless picture dealers – and then returning home with a crate of canvases.

This 19th-century love affair between American money and innovative French art might seem an unlikely one. Surveying his fellow Americans in Europe in the 1870s, Henry James had been appalled: 'There is but one word to use in regard to them – vulgar, vulgar, vulgar … It's the absolute and incredible lack of culture that strikes you in common travelling Americans.' Yet it was these Americans, or at least the opulent advance guard among them, who would come to the rescue of struggling and despised French artists, and who found in Impressionism the beauty and value that for many decades evaded so much of the French artistic establishment.

Most of these men were nouveau riche: self-made millionaires who piled up their fortunes after the Civil War in dry goods, real estate, mining, railroads and finance. To be fair, they did take some nudging: the business of selling Impressionist canvases to newly minted millionaires – men trained to spot the value of a commodity – was neither easy nor inevitable. Collectors needed to be convinced of both the aesthetic warrant and the commercial wisdom of purchasing modern art. A Monet was a very different proposition from many of their other purchases, such as the coffered ceilings or Renaissance frescoes that came from the warehouse in Florence of Stefano Bardini, the so-called 'prince of antiquaries'. Bardini's treasures were so bountiful, and so in-demand, that the architect Stanford White kept a ship at anchor off Livorno, ready to transport them back to embellish the mansions of his Gilded Age clients, such as Colonel Oliver Hazard Payne. One of the richest men in the US, Colonel Payne adorned his homes with Italian friezes, French Renaissance oak doors, Robert Adam mantels, carved Italian ceilings, and paintings by Diego Velázquez, Peter Paul Rubens and Sir Joshua Reynolds. The historian Henry Adams, paying him a visit, claimed that his collection included things 'such as kings mayn't now have'.

And yet among Colonel Payne's possessions were two oil paintings by Monet. Their presence on the walls of his mansion testify to the success of a new experiment in marketing – a new way of selling art in the US. The triumph of Monet and Impressionism in the US required marketing genius, financial risk and what today might be called good word-of-mouth. It owed a lot to enterprising dealers such as Durand-Ruel, the subject of a 2015 exhibition that opened at the Philadelphia Museum of Art following stops in Paris and London. Equally important for Impressionist fortunes was the impresario James F Sutton, a prominent dealer and collector who at the turn of the 20th century owned more Monets than anyone else in the US....MUCH MORE