And El Reg reports:
A copy-paste of Europe and a '5G' hotel: El Reg's Adventures in Huawei Land were fairly wacky
Welcome to Ox Horn, such a perfect town. Here we have some rules, let us lay them down
The Register paid a visit to Huawei's HQ in Dongguan, China, to find Europe in miniature along with a "5G" hotel that was, er, pretty much what we expected.

The 5G hotel that wasn't
A buzzword bingo card needs to be handed out at check-in to Huawei and the Intercontinental Shenzhen's 5G Smart Hotel. The eye-wateringly expensive Presidential Suite is festooned with Huawei's gizmos and has been given a liberal pasting with the 5G brush.

The Shenzhen Intercontinental, which was helpfully where Huawei hosted its analyst summit last week, is "Spanish themed". It is also notable for a socking great galleon stuck on its roof.

The thinking behind the 5G Smart Hotel is that rather than running fibre around the building, or fiddling with Wi-Fi, customers will get to enjoy "continuous indoor and outdoor 5G coverage".
To show off the tech, the company installed all manner of devices and slapped the lot with the 5G moniker. There is 5G Virtual Reality (VR), a 5G Cloud Gaming rig and a 5G TV showing 4K movies. Heck, there is even a 5G PC in the form of a mobile phone attached to a keyboard and monitor.
Except there isn't.

Upon some investigation it transpired that none of the devices were actually consuming that 5G goodness directly. Two repeaters (Customer Premises Equipment) were in place to take a 5G signal from the outside world and then blanket the Presidential Suite with the altogether more prosaic Wi-Fi.
The 5G VR headset? Running on Wi-Fi. That 5G Cloud Gaming box? Wi-Fi. 5G TV? Wi-Fi. Even the lowly mobile phone-based PC was actually connected to Wi-Fi, which is surprising considering Huawei has that 5G foldable fondleslab

lurking just around the corner

. Maybe.
Actual 5G equipment that could dispense with that pesky Wi-Fi was, according to enthusiastic Huawei staff, "coming soon".
"Coming Soon" might as well be the slogan for 5G. For the time being, at least.

5Gurassic Park
Very much here now, but still not quite what it seems, is Huawei's downright surreal new Ox Horn Campus for Research and Development.
While some companies might content themselves with glass blocks in which to house engineers, Huawei has opted to go full Disney, with an Epcot World Showcase-esque selection of areas mimicking the architecture of its European pals.
Or perhaps something more along the lines of Shrek's Duloc.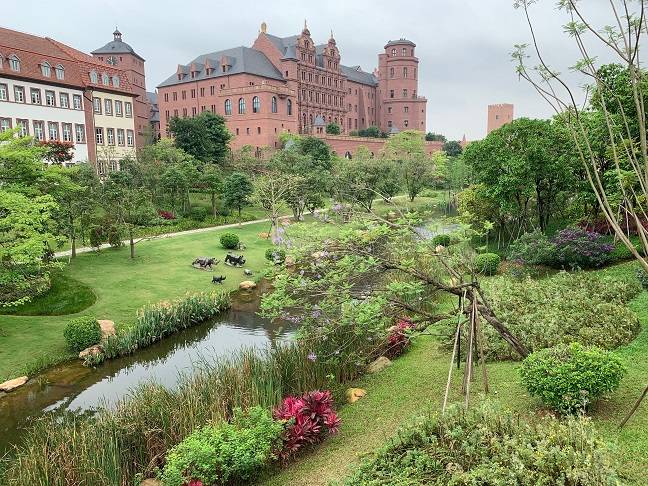 "Burgundy" calls to mind rural France, "Verona" brings a bit of Italian flair and "Heidelberg" enjoys some imposing Germanic architecture. "Paris" is, thankfully, more Versailles than Notre Dame. And so it goes on....
...
MORE