From the Jakarta Post:
Sun, December 23, 2018
/ 04:10 pm
A tsunami hit Banten and Lampung on Saturday at 9:27 p.m. The tsunami was caused by an abnormal tidal wave surge due to a full moon and an underwater landslide following the eruption of the Anak Krakatau volcano.

The tsunami reached as high as 3 meters, according to Rachmat Triyono, the head of the tsunami and earthquake division at the Meteorology, Climatology and Geophysics Agency (BMKG).
As of Sunday afternoon, the death toll reached 222, while 843 people were injured and 28 were missing. Many of those killed were tourists.

Pandeglang regency in Banten, a popular tourist destination, was the worst-hit area. Other regencies hit by the tsunami are Serang in Banten and South Lampung in Lampung. In the latter, the four worst-hit subdistricts are Kalianda, Rajabasa, Sidomulyo and Katibung.

Most Indonesians are currently on holiday, and both Banten and Lampung with their scenic beaches are popular tourist destinations. Tanjung Lesung in Pandeglang is one of 10 national tourist destinations specifically promoted by the Tourism Ministry under a program called the 10 New Balis.
Here is what we know so far about the Sunda Strait tsunami:

Increasing volcanic activity
Anak Krakatau is a small volcanic island located in the Sunda Strait, between the islands of Java and Sumatra. It emerged from the ocean half a century after Krakatau's deadly eruption in 1883, hence the term anak (child) in its name.

Anak Krakatau has seen small regular eruptions since June. The volcano was put on the second-highest alert level – caution – in 2012.

Anak Krakatau is not the only volcano showing increasing activity.

The Volcanology and Geological Hazard Mitigation Center (PVMBG) announced earlier this week that 20 volcanoes in Indonesia had been showing above-average volcanic activity. The PVMBG had cautioned tourist management groups and local administrations, as volcanoes are popular tourist destinations.

Anak Krakatau is under 24-hour observation, along with Mount Sinabung and Mount Siputan, both in North Sumatra....MORE
And
Twitter
More to come.We last mentioned the volcano in September 24's "
Oh Great, Now Anak Krakatau (Child of Krakatoa) Is Erupting
":
Actually it's not a big deal (yet). I wanted an excuse to link to MAGMA Indonesia (Multiplatform Application for Geohazard Mitigation and Assessment.
...
Well, it's a big deal now.
These submarine landslides can unleash amazing amounts of energy. The Storegga slides off Norway 8200 years ago set off tsunami's that are what supposedly finished washing away the land bridge (Doggerland) between Britain and Europe.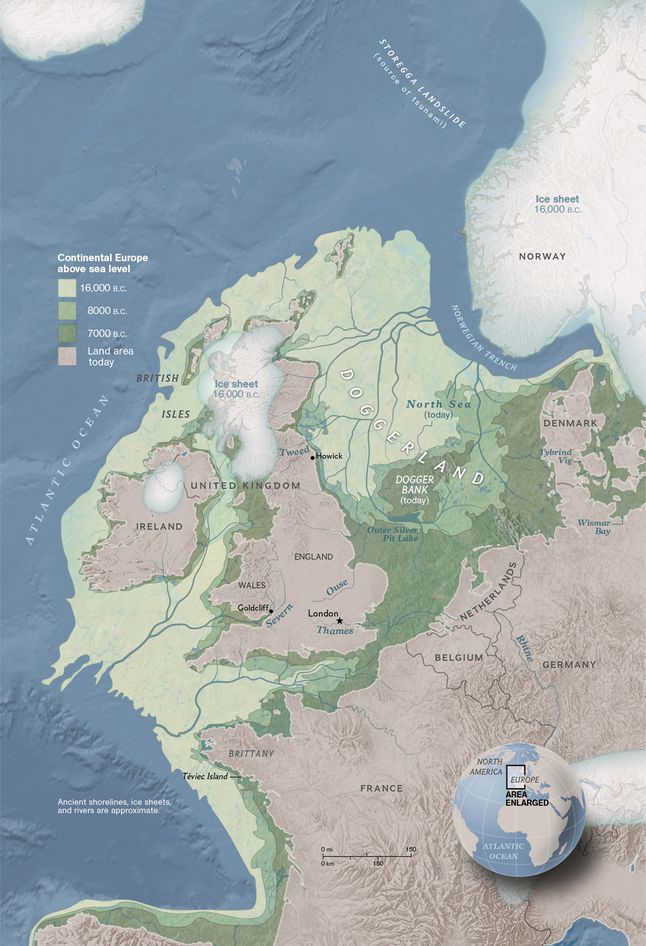 At the end of the last ice age, Britain formed the northwest corner of an icy continent. Warming climate exposed a vast continental shelf for humans to inhabit. Further warming and rising seas gradually flooded low-lying lands. Some 8,200 years ago, a catastrophic release of water from a North American glacial lake and a tsunami from a submarine landslide off Norway inundated whatever remained of Doggerland.