From Bloomberg:
Planting Decision No Brainer as U.S. Farms Swap Corn for Soy
Acreage used for soy may exceed corn for first time since 1983

Soy price premium signals record crop for world's top grower
Planting decisions for U.S. corn and soybean farmers are a bit of a no-brainer this year. After confronting the prospects of losses on both crops in 2016, soybeans are now more profitable, which means the world's largest grower may harvest a record crop for a second straight year.

While corn is still king -- it's the largest U.S. crop by value and volume -- farmers from North Dakota to Texas are preparing to use more of their land on soybeans instead. That's because cash prices have jumped 9.2 percent since the 2016 harvest, creating the widest premium over corn in 29 years, and the oilseed is cheaper to grow.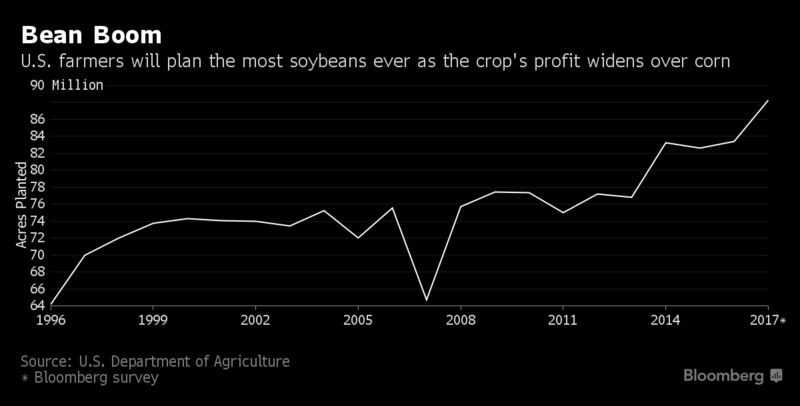 "It's the difference between choosing to operate in the black or in the red," said Jon Mutschler, 48, who farms 2,500 acres (1,012 hectares) in Minnesota with his wife and son. "The market is telling us to plant soybeans," he said. Mutschler will sow 55 percent of his land with corn, down from 67 percent last season, and boost soybeans to 45 percent from 33 percent.

Seed technology that combats drought, bugs and disease is helping U.S. farmers produce record amounts of corn and soybeans on every acre, but demand prospects are better for soybeans used to make animal feed, cooking oil and biofuel. Rising global consumption of meat, poultry, eggs and dairy has doubled the amount of soy-based meal in animal feed since 2000. Most of that growth occurred in China, the biggest pork producer, where soybean imports have doubled in the past eight years.
Soybean prices in 2016 posted the first annual increase in four years, and they are up in 2017. To maximize revenue and take advantage of the rally, American farmers probably will expand soybean planting 5.8 percent to a record 88.27 million acres, the third increase in four years, according to a Bloomberg survey of 25 trading firms and analysts. Corn sowing may fall 3.6 percent to 90.77 million acres, the biggest drop in three seasons....MUCH MORE
Here's the last 14 months of each, via FinViz: