From The Register:
Puny humans feebly try to fend off robotic takeover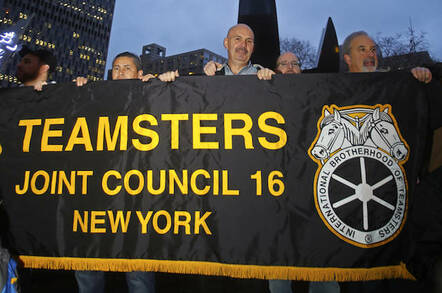 The Teamsters labor union wants package delivery giant UPS to promise not to replace any of its drivers with drones and self-driving trucks.

The demand was made as part of ongoing negotiations between UPS and its 260,000 union workers in North America.

The Teamsters presented the biz with a 91-page document detailing demands, that, among other things, include asking UPS to commit to not use quadcopters or self-driving vehicles to carry out deliveries that would otherwise be done by a Teamsters human.

The proposal – obtained by The Reg – specifically calls for UPS to prohibit "driverless trucks, drones, robots, and other driverless technology."

The union is also asking UPS to commit to hiring additional workers to bolster its ranks and eliminate night-time deliveries.

UPS did not specifically address the drone demands, but did offer The Register a blanket statement today...:
...
MORE
Dear Teamsters, please note: The 'Puny Humans' line was from The Register (and the Hulk), not Climateer Investing.
Thank you.