Following on "
Credit Suisse's Global Financial Strategies (Mauboussin et al) 'To Buy or Not To Buy – A Checklist for Assessing Mergers & Acquisitions'
":
"Companies that act early in an M&A cycle tend to generate higher returns than those that act later. The first movers enjoy the benefits of a larger pool of targets and cheaper valuations than companies that buy later in the cycle...."
As the oldtimers used to say, "Well bought is half-sold".
From Bloomberg Gadfly:
Buyout firms have wasted no time taking advantage of this year's buoyant market conditions to sell shares in their European investments.

January and February saw 23 exits by buyout and venture capital firms in the region, breaking the record set in 2015 -- although, at $3.2 billion, the total value of stock sold was a little lower.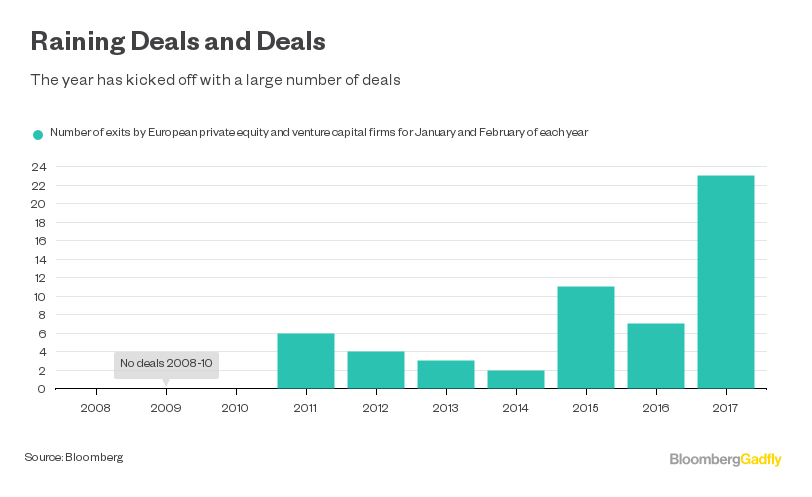 With elections looming in France and the Netherlands, political uncertainty is driving the rush for the door. But regional oddities were also at work: a spike of sell-downs in Sweden followed a mini-boom in initial public offerings in country over the last two years. Shareholders had a window to sell between the companies reporting results and mid-term school holidays.

There are signs that investors may have had their fill, and now they're getting pickier.

February was a month of two halves. Of the 16 exits by private equity firms, the early ones attracted strong demand -- six sellers were able to sell their holdings for less than 3.8 percent below the prevailing market price. Bain Capital LP and Advent International were able to sell shares in Worldpay Group Plc and DFS Furniture Plc at a discount of less than 2 percent....MORE