From Bloomberg:
Demanding more land to secure U.S. loans as slump boosts risks

Selling more farms amid longest profit drop in three decades
Betting the farm on record crop, livestock and dairy prices has turned into a losing investment for an expanding share of America's agricultural heartland. The level of debt to income is the highest in three decades, and growers are increasingly unable to make loan payments.

Four years after record U.S. crop and farmland values boosted purchases of land and equipment, a global surplus has sent prices tumbling and farm income into the longest slump since 1977. The Federal Reserve says growers are borrowing more to pay bills, repayment rates are plunging, and the number of bankers requesting additional collateral is the highest in 25 years.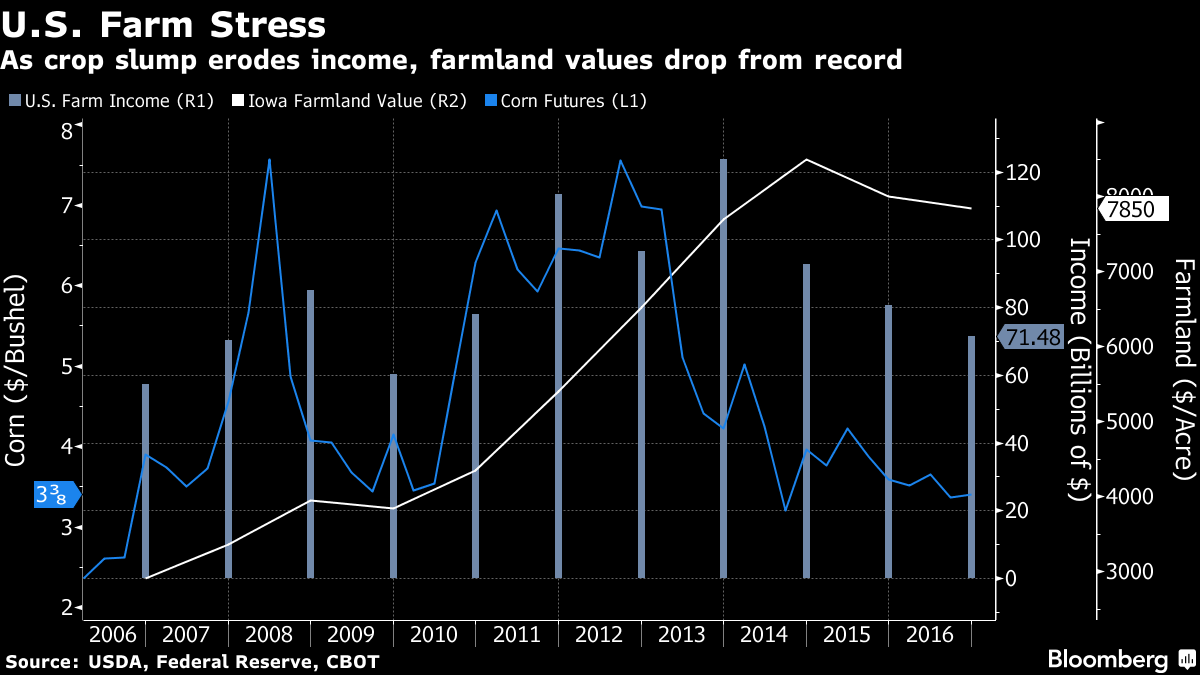 While low interest rates and savings from big paydays not long ago have kept farmers in better financial shape than the bankruptcy crisis of the mid-1980s, signs of stress are increasing, especially for growers who invested during the boom years. Farm income is down 42 percent from a record in 2013, government data show, and MetLife Agricultural Finance predicts farmland values will tumble 20 percent by 2018.

"Unquestionably, some farmers are not going to make it," said Dan Kowalski, director of research at CoBank, an agricultural lending cooperative based in Greenwood Village, Colorado. "If they made aggressive growth decisions and did it with debt, that won't work out well. Credit quality is starting to slip on the farm and smaller agricultural businesses. Bankers are asking if they have the cash flow to pay bills."

Fewer Repayments
The Federal Reserve Bank of Kansas City said last week that rural lenders it surveyed are seeing an erosion of financial health and credit conditions for crop and livestock producers in a seven-state region from Missouri to Colorado. In the third quarter, nearly 30 percent of the banks reported a significant deterioration of working capital for farmers, about twice as many as the same time in 2015, the Kansas City Fed said in its Nov. 10 report. An index tracking loan-repayment rates in the region was the lowest since 1985.

"Farmers were fairly flush with cash during the really good times," said Nathan Kauffman, assistant vice president at the Omaha Branch of the Kansas City Fed. "We continue to see deterioration in general in credit conditions, repayment rates, liquidity, farm income, all of those measures that would kind of be wrapped up in the general financial picture for farm borrowers."...MORE