Speaking of fallacies (post
immediately below
)....a repost from August, 2009. You'll find the Gambler's Fallacy under the Probabilistic fallacies:
Autodidactic polymath
? Screw up in school? Gaps in your knowledge of Classical Logic, Rhetoric?
Never Fear! In "How to Win Any Global Warming Argument" we introduced you to Schopenhauer's little gem, "
Die Kunst, Recht zu behalten
".
Today we find "
The Fallacy Files: Taxonomy of Logical Fallacies
".
Very handy. You may still be wrong but you won't immediately expose yourself as an idiot!*
I owe someone a big 'ol hat tip on this but forgot where it came from. Email and we will erect a statue (virtual) in your honor. How many hooves should be on the (virtual) ground?**
From
FallacyFiles.org
(click through for definitions):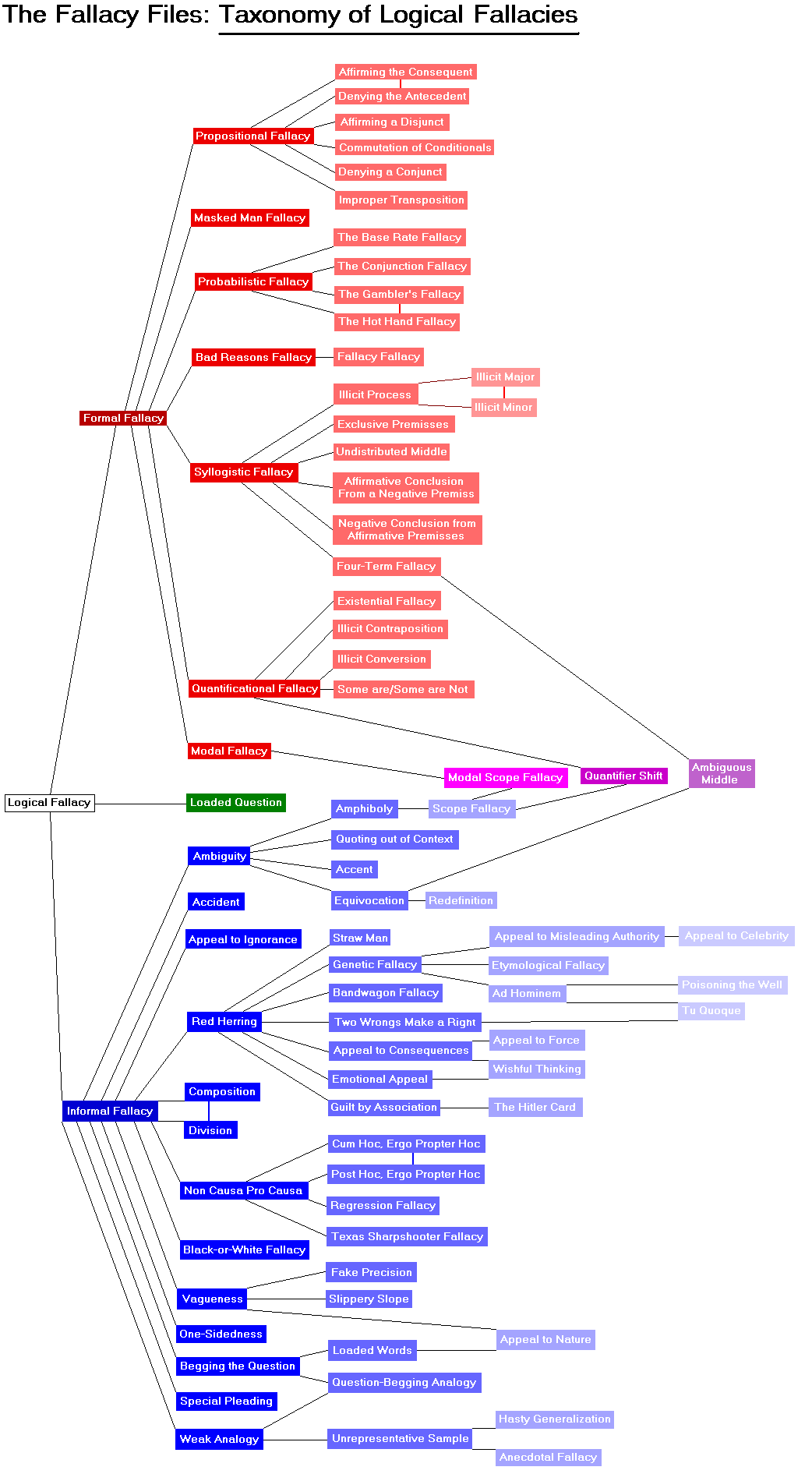 *From The
Quotations Page
:
...It's been attributed to many persons, but seems to have its roots in the Bible:

It is better to remain silent and be thought a fool, than to open your mouth and remove all doubt . -- George Eliot
Better to remain silent and be thought a fool than to speak out and remove all doubt.-- Abraham Lincoln (also attr. Confucius)
It is better to keep your mouth closed and let people think you are a fool than to open it and remove all doubt.-- Mark Twain (1835-1910)
Even a fool, when he holdeth his peace, is counted wise: and he that shutteth his lips is esteemed a man of understanding. -- Bible, 'Proverbs' 17:28.

There are no citations for Lincoln or Twain. I have my doubts about Confucius.
**From
Snopes
:
Claim: The number of hooves lifted into the air on equestrian statues reveals how the riders died.

Status: False. ...