Iraq has an air force?
I thought the Iraqi air force went to Iran.
Seriously.
Now a word on sources. As noted
a few weeks ago
:
This source, Sputnik News, is the successor to RIA Novosti's international operations, which Putin had ordered shut down. RIA Novosti continues its domestic Russian-language news ops at RIA.ru.

You have to assume everything that the two publish is Putin approved....
From Sputnik:
Al-Baghdadi Not Among ISIL Leaders Killed in Iraqi Army Airstrike
Several leaders of the Islamic State were killed in an airstrike conducted by the Iraqi Air Force, but "caliph" Abu Bakr al-Baghdadi is not among them, Reuters reports citing an Iraqi hospital source.

Earlier it was reported that the Iraqi Air Forces had attacked a convoy of the Islamic State jihadist group's leader, Abu Bakr al-Baghdadi, in the Iraqi western Anbar province. His fate had been unknown.
The local Shafaq News portal reported citing the Iraqi army's statement that the airstrike had been carried after the intelligence received information on al-Baghdadi's route to a meeting with the leadership of the terrorist organization.

The Islamic State is a radical Sunni group that has ceased vast areas in Syria and Iraq. It aims to establish an Islamic caliphate on the occupied territories. The radicals have become notorious for numerous terrorist attacks and their mass executions, stoning of women and the beheading of foreigners....MORE
And from Reuters:
Iran tests new precision-guided ballistic missile
Iran tested a new precision-guided ballistic missile on Sunday in defiance of a United Nations ban, signaling an apparent advance in Iranian attempts to improve the accuracy of its missile arsenal.
The Islamic Republic has one of the largest missile programs in the Middle East, but its potential effectiveness has been limited by poor accuracy.

State television showed what appeared to be a successful launch of the new missile, named Emad, which will be Iran's first precision-guided weapon with the range to strike its regional arch-enemy Israel.

"The Emad missile is able to strike targets with a high level of precision and completely destroy them ... This greatly increases Iran's strategic deterrence capability," Defence Minister Hossein Dehghan said at a televised news conference.

The U.N. Security Council prohibits foreign powers from assisting Iran in developing its ballistic missile program in any way, a ban that will remain in place under the terms of the July 14 nuclear deal that will see other sanctions lifted.

The United Nations also prohibits Iran from undertaking any activity related to ballistic missiles that could deliver a nuclear warhead, which applies to the Emad, but Iranian officials have pledged to ignore the ban....MORE
Here's Stratfor's estimates of the range of Emad's predecessor: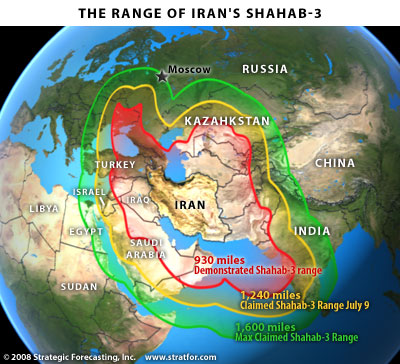 The cognoscenti assume Iran is still 6-9 years away from threatening major populations in Europe with what, should it ever come down to it, would probably be an EMP-inducing high level detonation. One of those in winter over Berlin would be nasty.
And of course best buddies North Korea have a couple 4000 to 6500 km missiles should Iran want to pursue high pressure diplomacy sooner rather than later.