From the Energy Information Administration's
Today in Energy
, yesterday: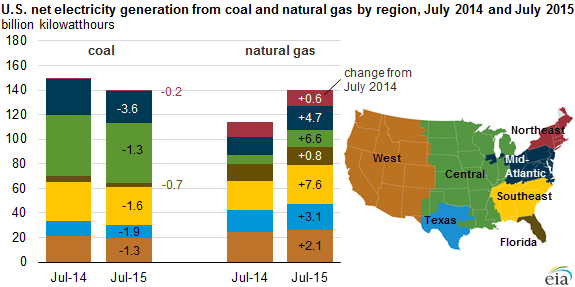 The monthly natural gas share of total U.S. electricity generation surpassed the coal share in July for the second time ever, with natural gas fueling 35.0% of total generation to coal's 34.9% share. Compared to the previous July, coal-fired generation fell in every region of the country, while natural gas-fired generation rose in every region.
Earlier this year, natural gas-fired generation surpassed generation from coal for the first time. This switch occurred in April, generally the month with the lowest demand for electricity. In times of low electricity demand, many generators schedule routine maintenance, and utilization rates for generating plants are low. As demand increases during the summer, output from both coal- and natural gas-fired generators increases.
Total electricity demand, excluding demand met by distributed (largely renewable) sources, increased from 384 billion kilowatthours (kWh) in July 2014 to 398 billion kWh in July 2015. Coal-fired generation fell from 150 billion kWh to 139 billion kWh, while natural gas-fired generation rose from 114 billion kWh to 140 billion kWh. This decrease in coal and increase in natural gas occurred in every region of the country: the Mid-Atlantic region had the largest decline in coal-fired generation, followed by Texas, while the Southeast and Central regions had the largest increases in natural gas-fired generation.
Natural gas prices continue to be relatively low. The monthly average price at Henry Hub, a natural gas benchmark, declined from $4.14 per million Btu (MMBtu) in July 2014 to $2.91/MMBtu in July 2015, and it has since fallen to $2.72/MMBtu in September. The average price of wholesale natural gas in New York City during July ($2.06/MMBtu) was below the average wholesale price of Central Appalachian coal ($2.31/MMBtu), even before accounting for differences in fuel conversion efficiencies between coal- and natural gas-fired generators. Prior to this year, the last time electricity generation from natural gas came close to surpassing coal-fired generation was April 2012, when monthly average spot prices for natural gas were near $2.00/MMBtu. Power generation shares for coal and natural gas diverged as natural gas spot prices rose to about $3.50/MMBtu by the end of 2012....MORE