HT up front to
Business Insider
for both ideas.
After the unpleasantness in 1987, down 22.61% on a Monday following a then record 108
point
drop (4.6%) the preceding Friday, some folks seem to have an anticipatory frisson as they await the new week following eye-catching Friday declines.
Or maybe that's just me.
From MarketWatch:
Gulf markets: Saudi stocks plunge 6.9% on Sunday
Stock markets in the petrodollar-dependent Persian Gulf tumbled Sunday to multimonth lows, spooked by sharply lower oil prices and a global equities selloff on growing concerns about China's economy.

Saudi Arabia, the Middle East's biggest market, led the regionwide decline to finish the day nearly 7% lower. Dubai stocks dropped by a similar percentage, while regional peers Abu Dhabi and Doha's markets both fell 5% each to extend recent losses.

The Gulf meltdown followed a U.S. equity selloff Friday, the worst in four years, after new Chinese data raised more questions about the health of the world's second-biggest economy, and whether this would impact global growth. And a potential slowdown in Chinese demand for commodities dragged oil prices lower amid increasing consensus that cheap crude is here to stay.



For the Gulf nations, which largely depend on energy exports to finance their expansionary spending plans at home, the weak outlook for oil further aggravated a recent sell-down of risk in the region.
"The double-dip in oil prices [after last year's fall] has made investors worried about the growth prospects for the Gulf Cooperation Council [states], particularly since oil prices are once again below the budget break-even for many countries," said Simon Kitchen, the head of MENA strategies at investment bank EFG Hermès.

Dubai stocks lost 7% to end at 3451.48, while its neighbor in the United Arab Emirates, Abu Dhabi's market, dropped 5% to 4286.49. Qatar's main stocks benchmark finished down 5.3% at 10,750. The Gulf stock markets are open for trading Sunday through Thursday.

Investors took a lead from Saudi Arabia, the region's biggest economy. Its stocks closed 6.9% lower at 7463.32 after Fitch Ratings on Friday downgraded its outlook for the kingdom to negative from stable because of weaker oil prices....MORE
And a repost from October 2014:
The Week Ahead--"How to Gird Up Your Loins: An Illustrated Guide"
Although we don't plan a Dress & Grooming column, this may come in handy should the markets descend into madness.
From The Art of Manliness:
If you've read the Bible, then you've probably come across the phrase "gird up your loins." I've always thought it was a funny turn of phrase. Loins….heh.

Back in the days of the ancient Near East, both men and women wore flowing tunics. Around the tunic, they'd wear a belt or girdle. While tunics were comfortable and breezy, the hem of the tunic would often get in the way when a man was fighting or performing hard labor. So when ancient Hebrew men had to battle the Philistines, the men would lift the hem of their tunic up and tuck it into their girdle or tie it in a knot to keep it off the ground. The effect basically created a pair of shorts that provided more freedom of movement....MORE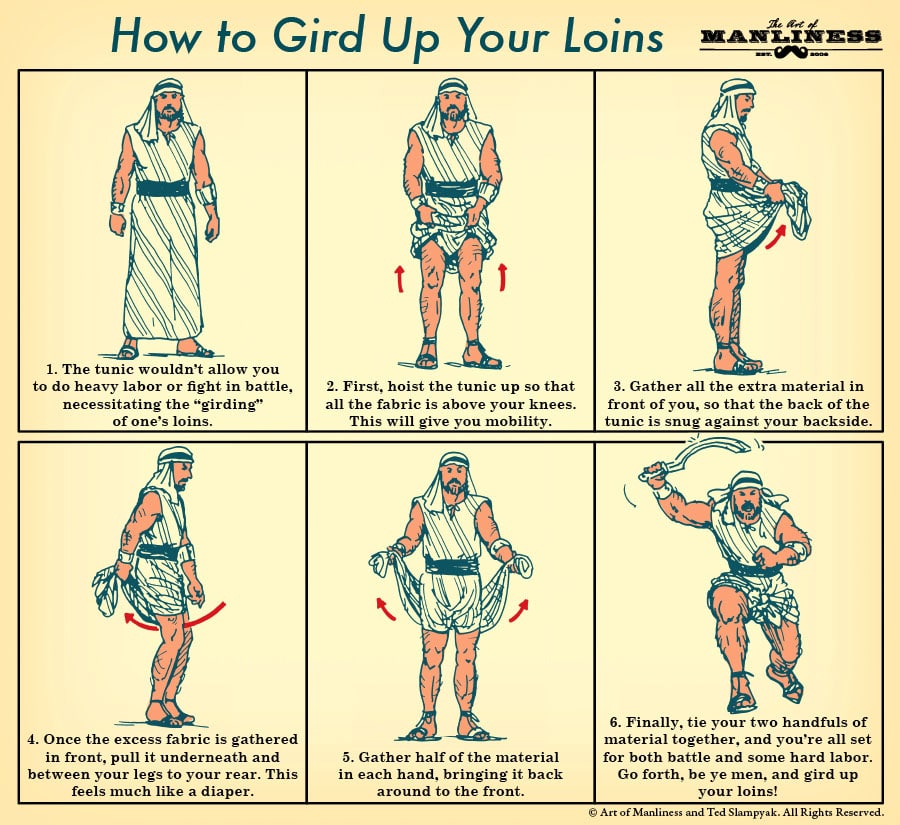 Also at the Art of Manliness:
How to Recover From a Bad First Impression
Also at BI:
GIRD YOUR LOINS: Here's your preview of this week's big market-moving events
(no handy how-to illustration)
Stock markets in Saudi Arabia, Dubai, Abu Dhabi, and Qatar crashed