Some of our Kurzweil posts, and our problems with his prediction methodology, links after the jump, are worth a look for those interested.
From the Guardian:
Ray Kurzweil popularised the Teminator-like moment he called the 'singularity', when artificial intelligence overtakes human thinking. But now the man who hopes to be immortal is involved in the very same quest – on behalf of the tech behemoth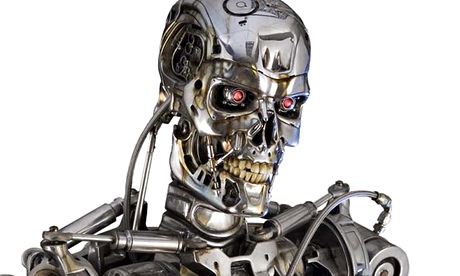 It's hard to know where to start with Ray Kurzweil. With the fact that he takes 150 pills a day and is intravenously injected on a weekly basis with a dizzying list of vitamins, dietary supplements, and substances that sound about as scientifically effective as face cream: coenzyme Q10, phosphatidycholine, glutathione?

With the fact that he believes that he has a good chance of living for ever? He just has to stay alive "long enough" to be around for when the great life-extending technologies kick in (he's 66 and he believes that "some of the baby-boomers will make it through"). Or with the fact that he's predicted that in 15 years' time, computers are going to trump people. That they will be smarter than we are. Not just better at doing sums than us and knowing what the best route is to Basildon. They already do that. But that they will be able to understand what we say, learn from experience, crack jokes, tell stories, flirt. Ray Kurzweil believes that, by 2029, computers will be able to do all the things that humans do. Only better.

But then everyone's allowed their theories. It's just that Kurzweil's theories have a habit of coming true. And, while he's been a successful technologist and entrepreneur and invented devices that have changed our world – the first flatbed scanner, the first computer program that could recognise a typeface, the first text-to-speech synthesizer and dozens more – and has been an important and influential advocate of artificial intelligence and what it will mean, he has also always been a lone voice in, if not quite a wilderness, then in something other than the mainstream.

And now? Now, he works at Google. Ray Kurzweil who believes that we can live for ever and that computers will gain what looks like a lot like consciousness in a little over a decade is now Google's director of engineering. The announcement of this, last year, was extraordinary enough. To people who work with tech or who are interested in tech and who are familiar with the idea that Kurzweil has popularised of "the singularity" – the moment in the future when men and machines will supposedly converge – and know him as either a brilliant maverick and visionary futurist, or a narcissistic crackpot obsessed with longevity, this was headline news in itself.

But it's what came next that puts this into context. It's since been revealed that Google has gone on an unprecedented shopping spree and is in the throes of assembling what looks like the greatest artificial intelligence laboratory on Earth; a laboratory designed to feast upon a resource of a kind that the world has never seen before: truly massive data. Our data. From the minutiae of our lives.

Google has bought almost every machine-learning and robotics company it can find, or at least, rates. It made headlines two months ago, when it bought Boston Dynamics, the firm that produces spectacular, terrifyingly life-like military robots, for an "undisclosed" but undoubtedly massive sum. It spent $3.2bn (£1.9bn) on smart thermostat maker Nest Labs. And this month, it bought the secretive and cutting-edge British artificial intelligence startup DeepMind for £242m.

And those are just the big deals. It also bought Bot & Dolly, Meka Robotics, Holomni, Redwood Robotics and Schaft, and another AI startup, DNNresearch. It hired Geoff Hinton, a British computer scientist who's probably the world's leading expert on neural networks. And it has embarked upon what one DeepMind investor told the technology publication Re/code two weeks ago was "a Manhattan project of AI". If artificial intelligence was really possible, and if anybody could do it, he said, "this will be the team". The future, in ways we can't even begin to imagine, will be Google's.

There are no "ifs" in Ray Kurzweil's vocabulary, however, when I meet him in his new home – a high-rise luxury apartment block in downtown San Francisco that's become an emblem for the city in this, its latest incarnation, the Age of Google. Kurzweil does not do ifs, or doubt, and he most especially doesn't do self-doubt. Though he's bemused about the fact that "for the first time in my life I have a job" and has moved from the east coast where his wife, Sonya, still lives, to take it....MORE
Previously:
Dec. 2012
"The Ray Kurzweil Show, Now at the Googleplex" (GOOG)
Last year I mentioned some of the problems with Mr. Kurzweil's predictive abilities which a couple years ago he said were running "102 for 108".

The easiest critique is stuff like a linear extension of current trends. No real insight there.
(more after the jump)

One that he's going to have to put in the miss column is from June 2008: "Ray Kurzweil: Cost Competitive Solar Within Five Years". Here he makes a rookie mistake violating the admonition given to all junior analysts:


"If you are going to publicly call a price, for God's sake don't...set...a...date!"

When all is said and done though, Ray has a bigger brain than I and gets stories about him published under the subject heading:


Visionaries

Among the stranger things Ray Kurzweil will say to your face is that he intends to bring his father back to life. The famed inventor has a storage locker full of memorabilia—family photographs, letters, even utility bills—tied to his father, Fredric, who died in 1970. Someday, Kurzweil hopes to feed this data trove into a computer that will reconstruct a virtual rendering of dear old Dad. "There is a lot of suffering in the world," Kurzweil once explained. "Some of it can be overcome if we have the right solutions."...
And from our March 2011 post "
Solar: Kurzweil Sees Energy Need Met In 16 Years
":
...Here is some of the back-and-forth on Mr. Kurzweil's predictions. In 2010 he said he was batting 102 of 108 which raises the question: Is he predicting the inevitable?
A simple example would be "smaller computers". A prognosticator doesn't get any points from me on that type of prediction.

First up, the brainiacs at IEEE Spectrum:
Ray Kurzweil's Slippery Futurism

Techi's headline is:
Ray Kurzweil's Tech Predictions Have Been Eerily Accurate

Kurzweil fans SingularityHub write:
Kurzweil Defends Predictions for 2009, Says He is 102 for 108.

Finally, Next Big Future has a response from Ray and an update from a skeptic:
Ray Kurzweil Responds to the Issue of Accuracy of His Predictions



Update: Ray Kurzweil's January 17th, 2010 response to this is posted below my initial post. He said, "your review is biased, incorrect, and misleading in many different ways"....

More than you cared to know?
Solar is still quite a ways from being cost-competitive. The brand new utility scale i.e. state-of-the-art Ivanpah facility won't disclose the unsubsidized cost of its electricity but it has been calculated by different methods at 17 to 24 cents per kilowatt hour. Wholesale electricity can be had for a nickle per KwH.
June 2008
Ray Kurzweil: Cost Competitive Solar Within Five Years
April 2011
Book Review: "Future Babble: Why Expert Predictions Are Next to Worthless, And You Can Do Better."
April 2011
Kleiner Perkins' Bill Joy on cleantech and predicting the future
Dec. 2011
"How to learn things automatically"
Feb. 2013
UPDATED--"A leading neuroscientist says Kurzweil's Singularity isn't going to happen...."
...Instead, humans will assimilate machines.
Or, as one
VentureBeat
commenter put it: