Two from Reuters via gCaptain, October 19:
Singapore Suspends Bunker Supply Licences of Hin Leong Unit
Singapore has suspended the licences to sell ship fuel held by a subsidiary of defunct oil trader Hin Leong Trading Pte Ltd since it could no longer meet the licensing requirements, the Maritime and Port Authority of Singapore (MPA) said on Monday.

The MPA suspended the licences for Hin Leong's subsidiary Ocean Bunkering Services Pte Ltd (OBS), an agency spokesperson said in an emailed response to questions from Reuters sent on Oct. 12.

MPA typically issues licences to supply bunker, or ship, fuel to vessels and to operate barges to transport the fuel to the ships.

"Given that OBS has stopped its bunkering operations since April this year and has not been able to fulfil its licensing commitment to date, MPA has suspended their bunkering licences until further notice," MPA said. The agency did not specify the exact date the licences were suspended.

In 2019, OBS was the third-largest bunker fuel supplier by volume in Singapore, which is the world's biggest bunkering hub with about 50 million tonnes of annual sales volumes....MORE
And:
Singapore's Ocean Tankers Wants To Return Ships To Owners
The court-appointed manager for Ocean Tankers Pte Ltd has applied to the Singapore court to return most of the ships the company manages to the shipowners, as cash is running low and Ocean Tankers will not be able to maintain the fleet, two sources with knowledge of the matter told Reuters.

If successful, the move will allow Ocean Tankers, the chartering arm of embattled oil trader Hin Leong Pte Ltd, to resume its cash-generating business such as its oil lubricants business, for which a sales process is underway, the sources said.

Ocean Tankers, Hin Leong, Xihe Holdings and four special purpose vehicles all owned by oil tycoon Oon Kuin Lim and his son and daughter have been placed by the Singapore High Court under judicial management for restructuring after Hin Leong raked up nearly $4 billion of debt.

Ocean Tankers is spending $540,000 a day to maintain around 150 vessels, the sources said, citing judicial manager EY's update sent to creditors and other stakeholders last week. Ocean Tankers had chartered these vessels, mostly owned by the Lim family, before it ran into financial problems.... MORE
We have quite a few posts on this multi-billion dollar mess:

Singapore's Hin Leong May Have Knocked Société Générale Out Of the Commodity Financing Business
Singapore is going to suffer a bit of reputational damage after this fraud and ZenRock and a couple others....
And MOST IMPORTANT:
"China's Sinopec in talks to buy stake in Hin Leong's Singapore terminal: Sources"
Talk about a strategic asset, strategically locate: SINGAPORE, DO NOT ALLOW THIS!!
A couple days ago the Financial Times' Natural Resources editor posted the org chart for Hin Leong in his Twitter timeline: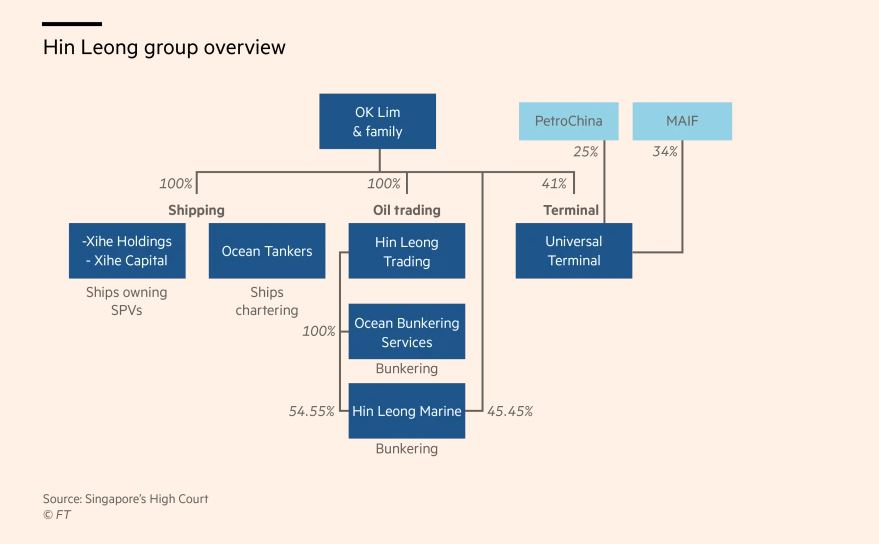 The terminal in question is over there on the right of the schematic. Macquarie Asia Infrastructure Fund is the 34% owner of what looks to be a very large tank farm and loading facility:
The
corporate brochure
says 2.33 million cubic meter capacity which, our handy calculator tells us, is 14.65 million barrels. Plus room for some big boats.
By comparison Cushing Oklahoma's capacity is only 5 times that (assuming effective capacity is
85% of 'shell'
capacity).
And no big boats....