From Foreign Policy, December 14:
Overflights, mapping fiber-optic networks, "strange activities." Moscow's West Coast spies were busy.
The first thing you need to understand about the building that, until very recently, housed the Russian Consulate in San Francisco — a city where topography is destiny, where wealth and power concentrate, quite literally, at the top — is its sense of elevation. Brick-fronted, sentinel-like, and six stories high, it sits on a hill in Pacific Heights, within one of the city's toniest zip codes. This is a neighborhood that radiates a type of wealth, power, and prestige that long predates the current wave of nouveau riche tech millionaires, or the wave before that, or the one before that. It is old and solid and comfortable with its privilege; its denizens know they have a right to rule. Indeed, from Pacific Heights, one can simultaneously gaze out on the city, the bay, the Golden Gate Bridge — and, beyond, the vast, frigid Pacific.




The second thing you need to understand about the closure of Russia's San Francisco consulate is that, after the Trump administration summarily announced on Aug. 31 that it would shutter the building 48 hours later, the news coverage that followed almost uniformly focused on two things: the dumbfounding heat (this city, cool and grey, is in California but not of it) and the black smoke wheezing from the consulate's chimney, as employees rushed to burn up, one assumes, anything confidential or inculpatory.

People were right to look upward, toward the building's roof, but their focus was misplaced: It was, in reality, the motley array of antennas and satellites and electronic transmittal devices dotting the rooftop — objects viewed with deep suspicion and consternation by U.S. intelligence community officials for decades — that tells the story of the Russian Consulate in San Francisco, not the ash drifting listlessly over the neighboring mansions.

I rushed to the consulate the day the closure announcement was made and watched the building sit impassively in the heat, while the media crews cooled off in the shade. A suspiciously large number of delivery vans were circling, and there was an unusual concentration of loiterers (in their cars, on computers; in biking gear, across the street) on an otherwise very quiet block. Pedestrians walked by, snapping photos on their iPhones.

San Francisco, it was clear, was now embroiled in the increasingly feverish diplomatic confrontation between the two nuclear superpowers. In July, Russian President Vladimir Putin had announced, in an interview on state-run television, that he was decreasing by 755 the total number of personnel working at U.S. diplomatic facilities in his country. Closing the San Francisco consulate (and two smaller diplomatic annexes) was the Trump administration's retaliation for this move. Putin, for his part, claimed that he was merely responding to the Barack Obama administration's December 2016 shuttering of two Russian recreational compounds on the East Coast; the expulsion of 35 Russian diplomats, identified as spies, from the country (this list included four employees of the San Francisco consulate, including the building's "chef"); and a new round of congressional sanctions. The Obama administration, of course, made these moves in retaliation for the unprecedented Russian meddling in the 2016 U.S. presidential election.

But why the focus on San Francisco? Why not close one of Russia's other three consulates, in New York, Seattle, or Houston? And why now?

The answer, I discovered, appears to revolve around an intensive, sustained, and mystifying pattern of espionage emanating from the San Francisco consulate. According to multiple former intelligence officials, while these "strange activities" were not limited to San Francisco or its environs, they originated far more frequently from the San Francisco consulate than any other Russian diplomatic facility in the United States, including the Russian Embassy in Washington, D.C. As one former intelligence source put it, suspected Russian spies were "doing peculiar things in places they shouldn't be." Russian officials in Washington failed to respond to multiple attempts via email and phone for comment.

In the course of reporting this story, I spoke to over half a dozen former high-level U.S. intelligence officials about the closure of the consulate. Some of these individuals, almost all of whom worked on counterintelligence in San Francisco, spoke on the record generally about Russian espionage in Northern California; extensive conversations with other former intelligence officials occurred on background, in order to discuss sensitive matters related to recent Russian activities in the Bay Area and beyond. These sources confirmed that the San Francisco consulate served a unique role in Russian intelligence-gathering operations in the United States, as an important, and perhaps unrivaled, hub for its technical collection efforts here. But, as I discovered, it was what these efforts entailed that is key to understanding why San Francisco — the oldest and most established Russian Consulate in the United States — was singled out for closure.

For many decades, U.S. officials have been keenly aware that, because of the consulate's proximity to Silicon Valley, educational institutions such as Stanford and Berkeley, and the large number of nearby defense contractors and researchers — including two Energy Department-affiliated nuclear weapons laboratories — Russia has used San Francisco as a focal point for espionage activity. The modalities of Russian espionage in the Bay Area have historically been well known to U.S. counterintelligence personnel, who understand (at least generally) what the Russians will target and how they will try to achieve their objectives.

One former senior counterintelligence executive, for example, recalled the "disproportionate number" of science- and technology-focused Russian intelligence officers based in San Francisco, some of whom were experts in encryption and were tasked with identifying new developments in such technologies in Silicon Valley. A second former intelligence official noted the long-standing interest of Russian intelligence operatives in San Francisco in building relationships with local tech experts and venture capital firms. What has evolved, noted multiple former officials, is the intensity of Russian efforts. According to Kathleen Puckett, who spent two decades working on counterintelligence in the Bay Area, "there was more aggressiveness by the Russians in the 2000s than back in the 1980s."

Starting roughly 10 years ago — and perhaps going even longer back, according to multiple former U.S. intelligence officials — something changed. Suspected Russian intelligence officers, often fully aware they were being surveilled by the FBI, began showcasing inexplicable and bizarre behaviors in remote, forlorn, or just seemingly random places....MUCH MORE
HT:
Longreads
Related:
October 29
"Twitter's multi-million dollar US election pitch to RT revealed in FULL"

*****
....And how did the Russkies retaliate for the closing of their San Francisco consulate with the beautiful view?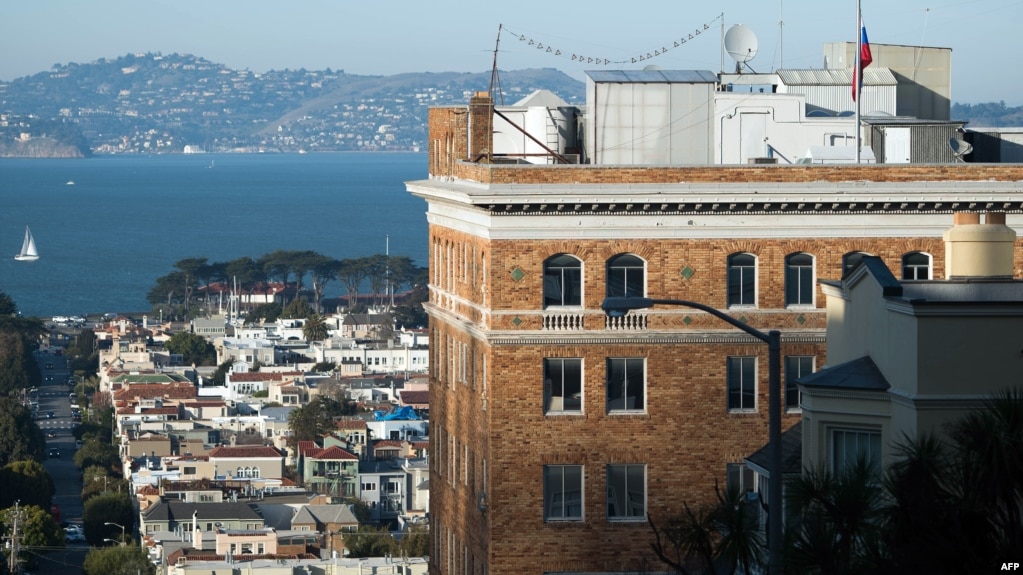 From the Associated Press:



Russia reduces parking spaces at US consulates

MOSCOW (AP) — Russia has withdrawn parking privileges for U.S. diplomats, an apparent continuation of a diplomatic tit-for-tat between Washington and Moscow.

State-owned television channel Rossiya 24 reported on Wednesday that parking spaces outside the U.S. consulate in St. Petersburg had been painted over with a pedestrian crossing, and special parking signs had been removed outside the U.S. consulate in Yekaterinburg, near the Ural Mountains.

Diplomatic tensions between the U.S. and Russia are at their lowest level since the Cold War...

MORE
Yeah, they understand Americans.
September 13
Russians RETALIATE For San Francisco Consulate Closure
They have a very deep understanding of the Amerikanskiy psyche....