Following up on September 8ths "
These are the voyages of the warship Zumwalt
".
From
The Register
:
Water got into where water should not have been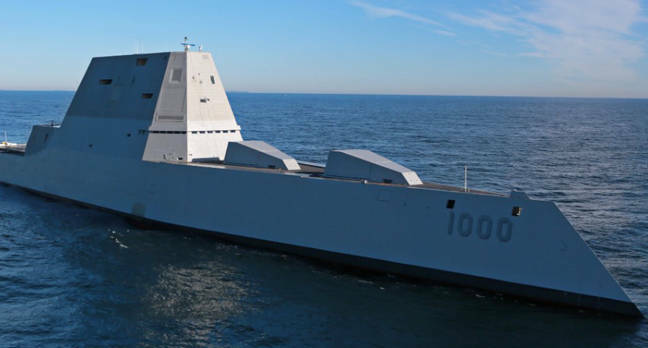 The USS Zumwalt has broken down after a water leak in a lubrication system
Weird new warship USS Zumwalt has broken down while on sea trials, three weeks ahead of her formal commissioning ceremony.

The futuristic $4.4bn vessel, which features a so-called "tumblehome" hull, suffered a seawater leak into the auxiliary lube oil system for one of her main propeller shafts, according to USNI News.
The defect will take about two weeks to repair at US naval station Norfolk, it was said.

An absolute behemoth of a ship, the 16,000 ton Zumwalt – almost three times as big as the UK's already large Type 45 destroyers – was intended to be the lead ship of a new class of warships that would have cemented US naval dominance well into the 21st Century.

Instead the entire program, supposedly for 36 vessels, was cancelled after the third ship was laid down, thanks to some seriously eye-watering costs. The US Navy has since started buying new-build Arleigh Burke-class destroyers, the basic design of which dates back to the mid-1980s.

Zumwalt herself is named after Admiral Elmo Zumwalt, chief of the US Navy during the latter part of the Vietnam War. Her commanding officer is, by a delightful quirk of nominative determinism, Captain James Kirk – though sadly his middle initial is A rather than T....