From Bloomberg, Sept 23:
Spot uranium price declines below $25 a pound to 11-year low

Demand lacking; market conditions unlikely to change soon: Ux
Uranium prices have gone from bad to worse, slumping to an 11-year low as brimming global inventories weigh on a market that hasn't recovered from the Fukushima disaster in Japan.

Spot uranium declined 1.4 percent to $24.40 a pound on Thursday, the lowest since April 2005, according to data from Ux Consulting Co. Prices have slumped 29 percent this year, making it the worst performing energy commodity in 2016. The fuel has more than halved since hitting $73 the month before the Fukushima meltdown in 2011.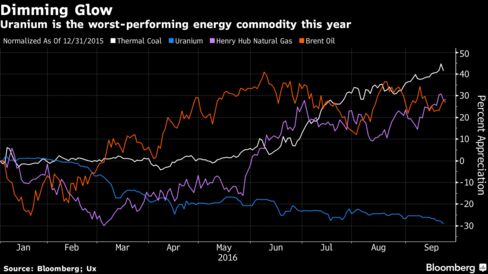 Uranium is heading for a second annual decline, even as producers cut output and Japanese utilities attempt to restart atomic plants. Prices are unlikely to rebound until at least 2019 as a market rebalancing may take another three years, Kirill Komarov, first deputy head of Rosatom Corp., said last month. The Russian company is the world's fourth-largest producer of the nuclear fuel....MORE