From the Huffington Post:
The President Of Slovakia Has, Uh, Nailed Her Coronavirus Look
Twitter users referred to Zuzana Čaputová's matching outfit, face mask included, as a "corona drip."
As the world attempts to contain the coronavirus outbreak, many people who are lucky enough to work from home kick off another week of wearing cozy, comfy and couch-friendly work attire.
Not Zuzana Čaputová, president of Slovakia. She attended a swearing-in ceremony of the new four-party coalition government in Bratislava, Slovakia's capital, on Saturday in a head-to-toe color-coordinated look.

Face mask included.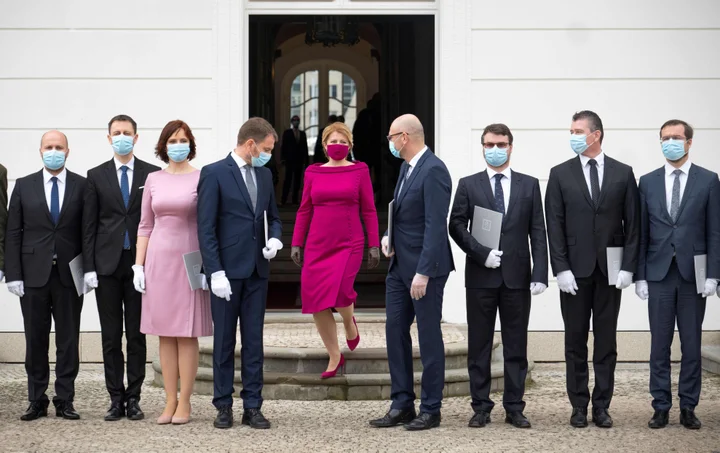 Čaputová wore a rosy red boatneck dress with matching red pumps and red fabric mask for the occasion. Her outfit stood out even more because the rest of the attendees opted for standard light blue masks not at all coordinated with their outfits....MORE
I'm not seeing "Rosy Red".
Not even Rosé Red
For more couture, haute and otherwise see "
Coronavirus Chic: Fashion Week In Milan and Paris
" and:
— FT Alphaville team (@ftalpha) February 28, 2020
Or, all the way back on February 4 (WHO says we're not fashion forward):
"The World's Most Valuable Wool – Astino" (plus premium facemasks—coronavirus chic)
...Designer Karen Walker fashioned a face mask cover that comes with interchangeable filters.
HELIX Filter Media provides superior electrostatic performance, capturing over 99.85% of PM0.1 particles and filtering out more than 99.99% of airborne bacteria. Since it's created of wool, it's the world's most breathable filter media that's pleasant to inhale through thanks to an infusion of New Zealand Manuka oil extract. Anti-bacterial qualities help to reduce the risk of being infected by colds and flu. It can also retain toxins such as formaldehyde. As for the price point, you can pick one up along with three filters for around $60.