These are not ventilators which are used for patients who cannot breathe on their own but rather for patients who need an assist, possibly freeing up a ventilator for someone else.
From Road & Track: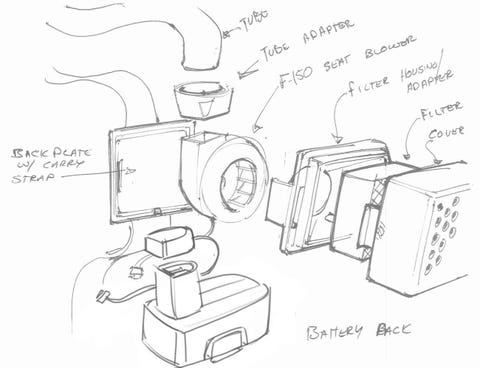 Ford announced today that it is partnering with 3M in order to manufacture powered air-purifying respirators (PAPRs) as part of its response to the COVID-19 pandemic. These respirators are often called positive-pressure masks as they take contaminated air, pull it through a filter, then push it to the sealed mask using an air blower.




Ford will assist by providing components from their parts bin to build the respirators. The design released by Ford (top) will use 3M filters that draw air into a blower motor sourced from an F-150 and then pushed through a tube up to a mask that is sealed to the user's face.
The blower motor is sourced from the F-150's front seat assembly and is usually employed as part of the ventilated seat option. These motors are compact and run on 12 volts in the car, so they can be used with a battery pack in a situation where they need to be portable.




Seat blower motors may not seem like the first choice, but they are actually matched quite well to the blowers that are usually present in these types of respirators. According to Delta Group,

seat blowers can operate at 9 to 16 volts

while drawing around half an amp. This allows them to produce between 14 and 19 cfm of airflow.




In comparison, the motor inside the 3M TR-800 system

produces between 6.7 and 7.8 cfm

depending on the setting, making the seat blower a very close match. The seat blower's power can be adjusted via a variety of methods–like PWM control–in order to bring it down to the same level of airflow as the purpose-built respirator blowers....

MORE
Yesterday:
Cuomo says New York is experimenting with having two patients share one ventilator; Canada Says Ours Go Up To Nine, Eh?