Back in October 2012
The National Interest
wrote about the longevity of revolutionary—and then evolving into increasingly authoritarian—governments in:
The Seventy-Year Itch
A fundamental problem with a revolutionary party as a ruling party is that is that its raison d'etre is stuck in the past.
Amid uncertainties over whether China's combination of authoritarian one-party rule and a rapidly evolving economy can persist, an academic at the Beijing Institute of Technology notes that many Chinese intellectuals wonder whether 70 years is about as long as any single party can remain in power. The wondering comes from looking at the examples of the Communist Party of the Soviet Union and Mexico's Institutional Revolutionary Party. Uninterrupted rule by the Chinese Communist Party will hit the 70-year mark in 2019....
This lifespan, 74 years for the Soviets, 71 years for the PRI has been getting some play in the media and you can bet the Chinese Communist Party is well aware of the calendar as they prepare for the 70 years in power anniversary next week.
(for what it's worth, Singapore's People's Action Party celebrated 60 years in May)
From the South China Morning Post come some nice words but I am not seeing anything real happening under the current leadership. President Xi is as close to a dictator as China has had since the peak of Mao's power and the CCP gang just doesn't seem to be comprised of Washingtons or heirs of Cincinnatus willing to just give up power and go back to the farm.
So we hope for the best but plan for the worst.
SCMP, September 22:
After nearly 70 years in power, China's one-party regime is approaching the longevity frontier for dictatorship amid an economic slowdown and tensions with the US
A crackdown on opponents and an emphasis on nationalism may boost support in the short term but staying in power to celebrate the party's centenary will be a challenge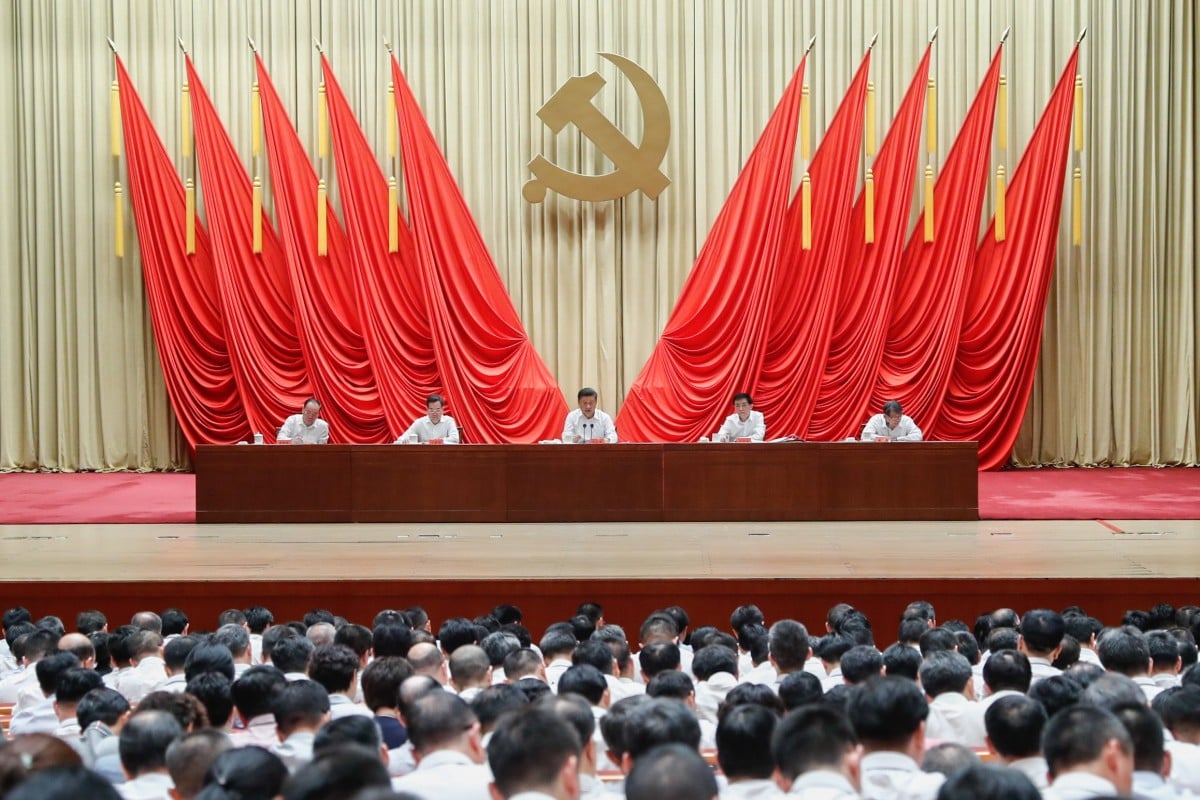 President Xi Jinping, also general secretary of the Communist Party's Central Committee and chairman of the Central Military Commission,
makes a speech during the opening ceremony of a training programme for party officials in Beijing on September 3. Photo: Xinhua
On October 1, to mark the

70th anniversary

of the People's Republic, Chinese President Xi Jinping will deliver a speech that unreservedly celebrates the Communist Party's record since 1949. But despite Xi's apparent confidence and optimism, the party's rank and file are increasingly concerned about the regime's future prospects – with good reason.

In 2012, when Xi

took

the party reins, he promised that it would strive to deliver great successes in advance of two upcoming centennials marking the founding the party in 1921 and the republic in 1949. But a persistent

economic slowdown

and

rising tensions

with the United States are likely to sour party mood during the 2021 celebrations. And the one-party regime may not even survive until 2049.

While there is technically no time limit on dictatorship, the party is approaching the longevity frontier for one-party regimes. Mexico's Institutional Revolutionary Party retained power for 71 years (1929-2000); the Communist Party of the Soviet Union ruled for 74 years (1917-1991); and Taiwan's

Kuomintang

held on for 73 years (1927-1949 on the mainland and 1949-2000 in Taiwan). The

North Korean regime

, a Stalinist family dynasty that has ruled for 71 years, is China's only contemporary competition.

But historical patterns are not the only reason for the party to be worried. The conditions that enabled the regime to recover from the

self-inflicted disasters

of Maoism and to prosper over the last four decades have largely been replaced by a less favourable – and in some senses, more hostile – environment....

MUCH MORE